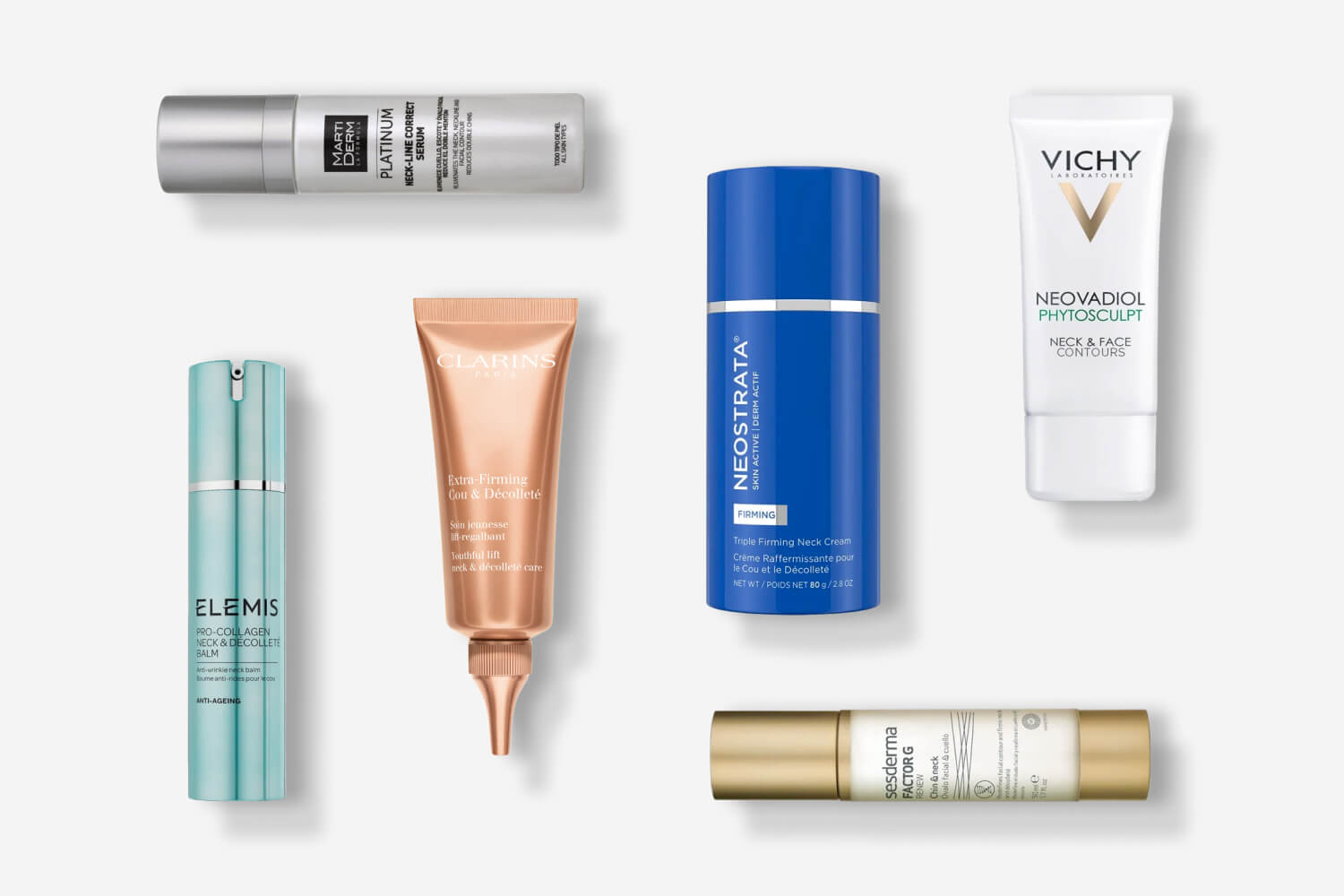 As far as skincare goes, most of us are guilty of the same mistake: we'll happily slather the best products on our face, but stop short of actually extending the application towards our neck. Unfortunately, the neck is exposed to much the same aggressions as the face; this, combined with our widespread negligence towards this part of our body, often results in neck wrinkles, as well as sagging. Fortunately, more and more beauty brands are coming up with products that target skin aging on the neck and bust. Keep reading to learn more about the best neck creams out there!
The benefits of neck creams
Before buying a neck cream, you might be wondering about the benefits of adding one of these products to your routine. In this section, we're going to help you understand if a neck cream is right for you: we're going to list some of the best ingredients to look for, guide you on how to apply your cream and, finally, help you decide whether a neck cream really is necessary for you. Keep reading!
Neck cream vs Face cream: What's the difference?
The main differences between face creams and neck creams come down to texture. Because the skin of the neck is thinner and has fewer sebaceous glands, it's also drier. In addition, the skin on the neck is also subject to a lot of movement, which requires a lot of resilience (it's no surprise "tech neck" wrinkles are the latest big concern).
Neck creams tend to be formulated with these skin characteristics in mind; neck creams are richer and more nutritious than face creams, and they will often focus on tightening the skin in order to fight off sagging and loss of firmness.
What ingredients should you look for in a neck cream?
Neck creams usually target signs of aging such as wrinkles, loss of firmness, and skin sagging. Dark spots and crepey skin, caused by sun exposure, can also be targeted by these creams. These concerns are common to many face creams, which brings us to an obvious conclusion: the anti-aging ingredients you'll find in face creams are the same you'll find in neck creams.
So, when shopping for a neck cream, look for hydrators like hyaluronic acid, antioxidants like vitamin C, and collagen boosters like peptides and retinol. AHAs may also come in handy if you're worried about improving skin texture and uniformity. Some tightening neck creams will also feature film-forming actives, which create an immediate firming effect.
How to apply a neck cream
There's a lot of controversy around the application of neck creams: should you apply them in upward or downward strokes? Proponents of upward strokes argue that this application may help counteract gravity and promote firmer skin. Meanwhile, proponents of downward strokes advocate this form of application because it allegedly helps with lymphatic drainage.
Our verdict is that the best way to apply your neck cream is to simply… apply your neck cream. The neck is an area of ​​the body that tends to be quite neglected, both in terms of applying anti-aging care and in terms of applying preventive care and sun protection. When the standard is this low, simply applying a cream will bring enormous benefits, regardless of whether it is applied top-down or bottom-up. Don't fret too much!
In short, this is what we recommend: dispense a small amount of product and use your fingertips to apply it to the clean, dry skin of your neck. Use gentle strokes, and try not to pull or tug at the skin (this advice also stands for facial application, of course). Don't forget the back of your neck!
Neck cream: Is it really necessary?
It depends. There are products that are much more necessary than a neck cream (say, a good cleanser and sunscreen duo that works for you). If you're just starting out with your skincare routine, focus on essentials first, then come back to the neck creams. If, on the other hand, you already have a complex care routine, you can invest in a neck cream if you believe it will bring you extra benefits that your anti-aging facial products won't.
In the end, it all comes down to this: will a targeted neck cream make you more likely to pay attention to this body part?
Our favorite neck creams that actually work
NeoStrata Skin Active Triple Firming Neck Cream
Achieve visible lifting results in 8 weeks
This cream by NeoStrata improves the firmness of the skin while evening out its tone. You'll see results after just 8 weeks, making this one of the best neck creams out there.
The formula contains two unique NeoStrata patents, NeoCitriate and NeoGlucosamine, which boost the skin's collagen synthesis as well as its production of hyaluronic acid. This leads to firmer, more elastic skin, which will show fewer neck wrinkles and less sagging.
---
Sesderma Factor G Renew Chin & Neck
Support the skin structure for a renewed appearance
Sesderma Factor G Renew Chin & Neck is an innovative product that harnesses the power of five botanical extracts to boost the synthesis of collagen and elastin, protect the support matrix of the skin from degradation, and improve the skin texture.
By working with the proteins that make up the structure of the skin, this powerful formula redefines the facial contours, leading to fewer neck wrinkles and less noticeable sagging.
---
Vichy Neovadiol Phytosculpt Neck & Face Contours
Nourish & firm mature skin
Phytosculpt is Vichy's first anti-aging firming balm for menopausal skin. In order to visibly reinforce, tighten, and redefine the facial contours, this product targets loss of firmness and skin slacking on the neck and jawline.
The unique balm texture melts when in contact with the skin, thus creating the perfect conditions for a firming massage. Once cooled down, the texture transforms into a film that actively keeps the skin firm.
---
SkinCeuticals Correct Tripeptide-R Neck Repair
Target wrinkles & skin sagging, all at once
This powerful formula by SkinCeuticals enhances the firmness and elasticity of the skin of the neck and bust, thus softening fine lines and wrinkles and restoring a youthful appearance.
It contains 0.2% pure retinol, a star ingredient that not only stimulates cell renewal but also increases production of natural collagen by the skin. With a pleasant fluid texture, this product lends itself perfectly to a firming massage.
---
Martiderm Neck Line Correct Serum
Improve firmness and texture with a neck serum
This daily serum from Martiderm was developed to firm and smooth the skin of the neck and chin. To that end, its formula is enriched with shiitake mushroom extract, a powerful antioxidant, which helps remove free radicals from the skin, resulting in healthier-looking skin.
The formula is also rich in glaucine, an active ingredient that offers a lipolytic effect, meaning it helps eliminate excess fat, thus reducing the infamous "double chin".
---
Elizabeth Arden Prevage Anti-Aging Neck & Décolleté Cream
Improve the skin's firmness and radiance with this silky texture
This luxurious anti-aging treatment rejuvenates the skin of the neck and bust. The silky formula is strengthened with retinyl linoleate, lupin seed extract and lipo amino acid, all of which support natural collagen and elastin for a firmer, plumper and smoother appearance of the skin.
Equally important, the formula contains optical pigments that improve the radiance of the skin. After each application, your skin looks and feels youthful.
---
Clarins Extra-Firming Neck & Décolleté Care
Even out the skin tone while improving firmness
As one of the best neck creams from Clarins, this product minimizes wrinkles, skin slackening, and dark spots. The natural formula uses a unique combination of sunflower extracts to lend greater firmness and flexibility to the skin.
As the skin grows more resistant, it forms fewer wrinkles and creases, so it is able to remain smooth for longer. The result is a gentle lifting and tightening effect, which creates the appearance of well-defined facial contours.
---
Elemis Pro-Collagen Neck & Décolleté Balm
Achieve plumper and firmer skin
This firming Elemis gel-cream nourishes and revitalizes your skin of the neck and décolleté with a floral fragrance that you'll love! It compensates the skin's natural loss of density and firmness, minimizing the appearance of wrinkles for smoother skin.
Tree fern extract is the one to blame for the firming action, creating a lifting effect; at the same time, Padina pavonica extract replenishes the skin with hydration. With the best texture and application experience, the neck and chest area gradually recover their lost volume and firmness.
---
Estée Lauder Resilience Multi-Effect Night Face & Neck Creme
Hydrate and smooth the face and neck
If you're not sold on the idea of ​​using a specific cream just for your neck, the Estée Lauder Resilience Multi-Effect Night Face & Neck Creme can be a great option for you. Formulated with an advanced Tri-Peptide Complex, this intensely nourishing cream boosts the skin's natural collagen production. The end goal, of course, is to minimize the appearance of lines and wrinkles and achieve a smoother, more youthful look.
And as if this cream wasn't already versatile enough, by serving both as a face and neck cream, it is also versatile in that it can be used as a cream or a mask. Use it every day for an intensive effect, or once a week for a boost of nutrition.
---
StriVectin TL Advanced Tightening Face & Neck Cream Plus
Fight gravity and horizontal lines
As one of the best known neck and décolleté creams in the world of skincare, this StriVectin TL Advanced Tightening Face & Neck Cream Plus provides a comprehensive "anti-gravity" effect. The key ingredient in the formula, the exclusive Gravitite-CF Lifting Complex™, creates visible lift and helps smooth out the appearance of horizontal neck lines.
A botanically-derived Brightening Complex complements this anti-aging action by minimizing the appearance of dark spots and hyperpigmentation, therefore promoting a more even skin tone.
---
Sisley Paris Neck Cream
Re-contour your jawline and neck
The Sisley Paris Neck Cream looks luxurious, and it packs quite a bit of skincare science too. The main goal of this neck cream is to firm and slim the neck, for a more youthful appearance. At the same time, this cream also benefits the jawline, as it helps re-contour the face for a tighter, firmer, more lifted look.
In addition to offering an immediate tightening effect, courtesy of its astringent ingredients, this cream offers a triple firming, slimming and moisturizing action. Its fine and silky texture is suitable for a prolonged massage; take your sweet time while applying this luxe cream!
---
If you'd like to expand the firming and lifting care to the face too, then you should take a look at the skincare routine we suggest to lift and firm the skin!