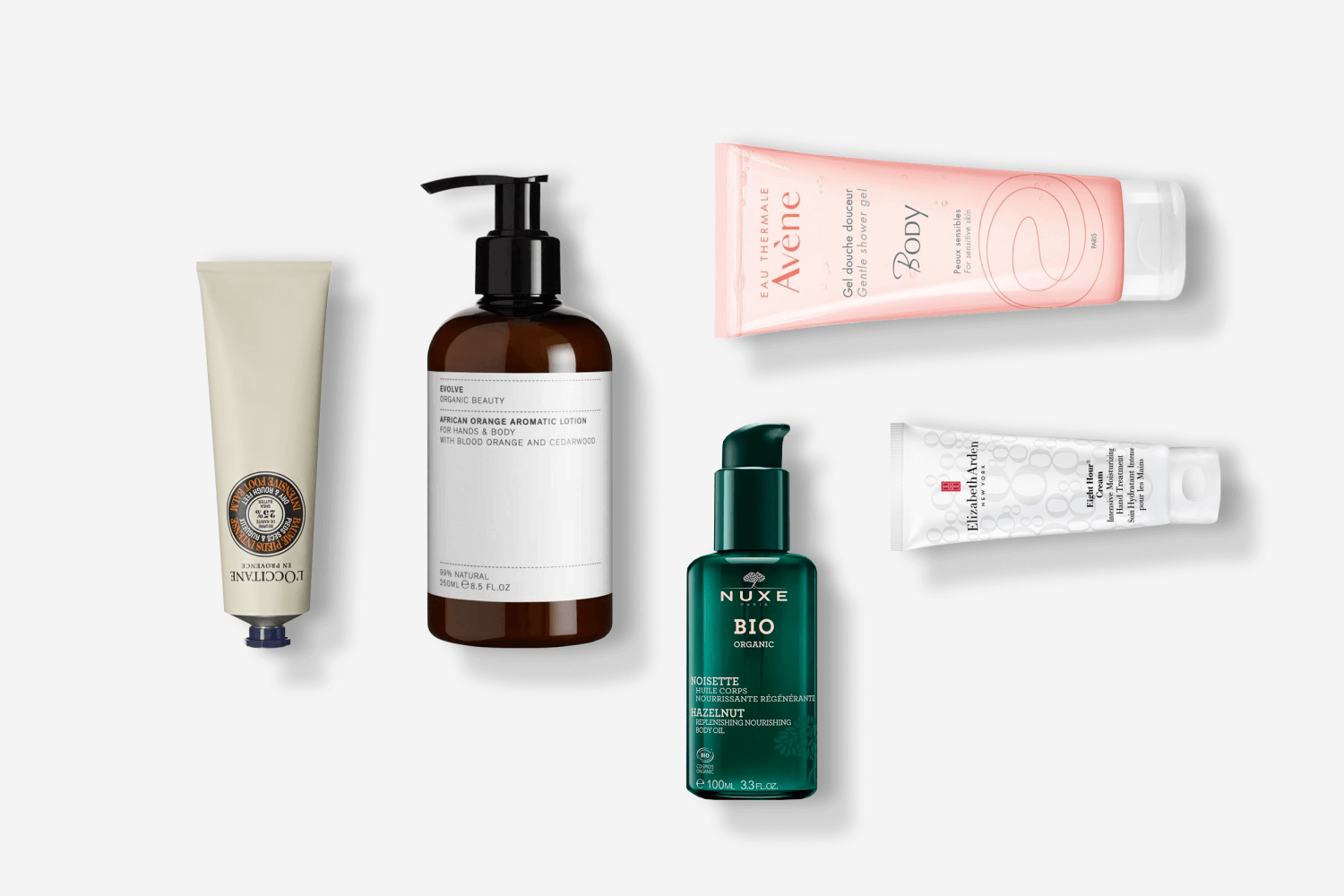 Most of us work hard on our faces, slathering on moisturizer after serum after toner in order to get that bright, radiant complexion… but it's not every person who gets to say they have a full body skincare routine. Take this writer, for example, who won't even pretend her elbows are fit for polite company right now. Sometimes, it's easier to let our skin do its thing than care for it ourselves, and there's no shame in that.
However, here at Care to Beauty we believe that a little goes a long way. When it comes to our skin, it's better to do one small thing consistently than a lot of things twice a year. For that reason, we've put together a small list of body care products. This should help you level up your full-body skincare routine! Maybe you're in the neglected elbow team, like so many of us; you'll see massive changes if you just add a rich, gooey body butter to your routine. Or maybe you've been dealing with dull, tired skin for a while, and you'd like to try a fancy new body scrub; we've got something for you too.
Remember that a little goes a long way. So, where will you begin?
---
On this post:
---
Body Wash
Everybody bathes, right? And yet, apart from some serious shower enthusiasts, most people don't give much thought to their choice of body wash; it's just something to lather on and rinse off while you're rushing to get out the door in the morning. But what if it didn't have to be like that? What if you could use a body wash that adds a little something to the otherwise mundane act of bathing? Sounds like a tall order, but we have options.
On the more utilitarian side, we love a good shower oil. La Roche-Posay Lipikar AP+ Cleansing Oil is a team favorite, as it replenishes moisture all the while cleansing the skin.
If you prefer shower gel over shower oil, Klorane Body Bamboo Nourishing Shower Gel is a beautifully fragrant shower gel featuring cupuaçu butter, which is 1.5 times more nourishing than shea butter. If you'd like to turn your shower into a full-on aromatherapy session, you can opt for something rich in essential oils: APIVITA Tonic Mountain Tea Shower Gel combines bergamot together with eucalyptus essential oils for a refreshing shot of vitality. Talk about an early morning wake-up call!
---
Body Scrub
Body scrubs deserve a spot on every full body skincare routine! Not only do they slough off dead skin cells, restoring your skin's natural radiance, they also help minimize breakouts and small blemishes, such as brown spots or large pores.
If you've ever used a body scrub, you know they tend to feature exfoliating particles of some sort: the usual suspects are sugar, sea salt, or even biodegradable jojoba microbeads. As you massage the product over your body, these small particles buff and polish the skin, creating a smooth, even-toned appearance.
When it comes to sugar scrubs, Caudalie Vinosculpt Crushed Cabarnet Scrub, with brown sugar, is a sure winner. On the sea salt scrub front, there's no beating Collistar Body Anti-Age Talasso-Scrub, which contains an exclusive mix of (wait for it) 90 different types of sea salt. For fans of smooth jojoba microbeads, there's the reliable Avène Body Gentle Scrub, which suits sensitive skin the best.
---
Body Lotion
Now, finally, we arrive at the oft-skipped part of many a full body skincare routine: hydration. Nobody likes the feeling of sticking to their clothes right after applying body lotion. With that in mind, we've selected our favorite lightweight body lotions–those elusive products that seem to melt into the skin as soon as you apply them, leaving your skin naturally soft and hydrated. No more waiting for your body lotion to dry–the future is now!
We were surprised, recently, to discover that the dry-skinned members of the Care to Beauty team all love Neutrogena Deep Moisture Body Lotion, even though we rarely mention it. That's just the thing with this hardworking body lotion: it's so effective and practical that you just take it for granted. But maybe you'd rather invest in something deeply fragrant and sensual, like the delicious Evolve African Orange Aromatic Hand & Body Lotion. Looking for something even more luscious? Reach for the iconic NUXE BIO Organic Hazelnut Replenishing Nourishing Body Oil, and let yourself luxuriate in that unrivaled feeling of comfort that comes with a scent of orange blossom.
---
Body Butter
We know what you're thinking: but what about those dry elbows we mentioned earlier? Well, now's the time to bring out the big guns. If your main concern are those pesky areas of seemingly permanent dryness, like the knees, elbows, heels, and so on, you need nourishing and repairing products that will help your skin heal and repair itself.
We like the versatile Eucerin Aquaphor Repairing Ointment, the silky NUXE Rêve de Miel Melting Honey Body Oil Balm, and the mousse-like Weleda Skin Food Body Butter, all of which come in big tubs for all of your repairing needs.
---
Hand Creams
Talk about neglected body parts! One of the best things you can do for your hands and feet is to moisturize them often, hopefully before they develop those dreaded cracks and fissures.
There's no one-size-fits-all with hand cream: some of us prefer simple moisturizers that get the job done, like ISDIN Ureadin Protect Hand Cream, whereas others will naturally gravitate towards the luxe silkiness of Elizabeth Arden Eight Hour Cream Intensive Hand Treatment. If you're looking for the full spa experience, look no further than Neutrogena Cica-Repair Hand Mask, which is essentially a sheet mask–well, a sheet glove–for your hands. Tried, tested, and beloved by our team!
---
Foot Creams
Our feet work hard for us, time to repay them in style!
When it comes to feet, we're big fans of SVR Xérial Peel Exfoliating Foot Mask, a sock mask you wear for one hour in order to exfoliate and moisturize the feet. If your feet are extremely rough and dry, you might want to look into CeraVe Renewing SA Foot Cream, a foot cream enriched with ceramides and exfoliating salicylic acid. And if your biggest concern is that your feet are just sore and tired all the time, why not treat them with the foot expert L'Occitane Shea Butter Intensive Foot Balm?
---
Some Pampering Extras
Now that you've put together the basics of your full body skincare routine, we thought we'd throw in some of the extras our team can't live without.
If you struggle with tired legs and swollen ankles, which can be a natural consequence of spending too much time on your feet, Martiderm Legvass Emulsion is sure to help. Still on the leg department, we've all had to deal with those annoying ingrown hairs after hair removal; we like to reach out for SVR Xerial 30 Gel-Cream, a urea-based cream that reduces roughness while smoothing the skin.
Do you happen to be at war with cellulite? We're big fans of the Esthederm Body range, especially Esthederm Body Intensive Glauscine Serum (for water retention) and Esthederm Body Intensive Glauscine Cream (for that localized orange peel effect).
And last, but not least, those of us who love that healthy summer glow swear by Comodynes Natural Self-Tanning Wipes, which are gentle enough to be used on the face, neck, and decolletage. If you've always wanted to look like you're on a permanent beach holiday, this is the product for you.
---
As you can see, there are plenty of body care products available out there. The important thing is to choose the product that best fits your needs and lifestyle, and use it consistently. If you're still not convinced that you've found your body care holy grail, no worries: you can browse our full selection of body care products in the shop!