It's no secret: here at Care to Beauty, we love sunscreen. Not only do we love talking about it, we love wearing it. There's just something about applying a little shield to your face before leaving the house, you know? And what a shield: when properly applied, sunscreen can protect the skin against dark spots, premature aging, sunburn, and other forms of sun damage (which can later develop into skin cancer). It's no wonder that we immediately bonded with Hello Sunday, the new SPF brand that's just burst into the scene with a motto we wholeheartedly support: "all year round SPF protection, rain or shine."
Sunscreen Everyday, for Everyone: The Hello Sunday Way
We know it, you know it, Hello Sunday knows it, it's important to wear sunscreen every day. However, not every sunscreen product is a good option for everyday use. If you've got oily skin, you may struggle with excessively oily formulas that cause breakouts; if you've got a darker complexion, you may be sick and tired of trying sunscreen after sunscreen only to end up with a white cast all over your skin.
At Hello Sunday, the goal is to provide you with featherlight formulas that look good, feel good, and protect not only against UVA/UVB rays, but also against HEV light (also known as blue light).
Vegan and Cruelty-free Formulas
Hello Sunday sunscreens are certified vegan with the European Vegetarian Union (EVU)–but that's not all! Following European regulations that forbid testing on animals, Hello Sunday sunscreens are also cruelty-free.
Last, but not least, Hello Sunday sunscreens are free from benzophenone, homosalate, octinoxate, and oxybenzone. Octinoxate and oxybenzone, in particular, have been under the attention of scientists for a while, as they try to understand whether these compounds have a harmful effect on developing coral. Studies are ongoing and evidence is still insufficient, but sunscreen products containing octinoxate and oxybenzone have already been banned in a few countries. Something to keep in mind if you're traveling!
Gorgeous (and Recyclable) Packaging
You may have noticed Hello Sunday makes gorgeous packaging, but did you know it's also recyclable? According to the brand, 93.3% of their product packaging is recyclable. The tubes and bottles can be disposed of in the plastic recycling bin. The only exception is the serum, which must be separated in two parts: the plastic cap to go in the plastic recycling bin, and the bottle to go in the glass recycling bin.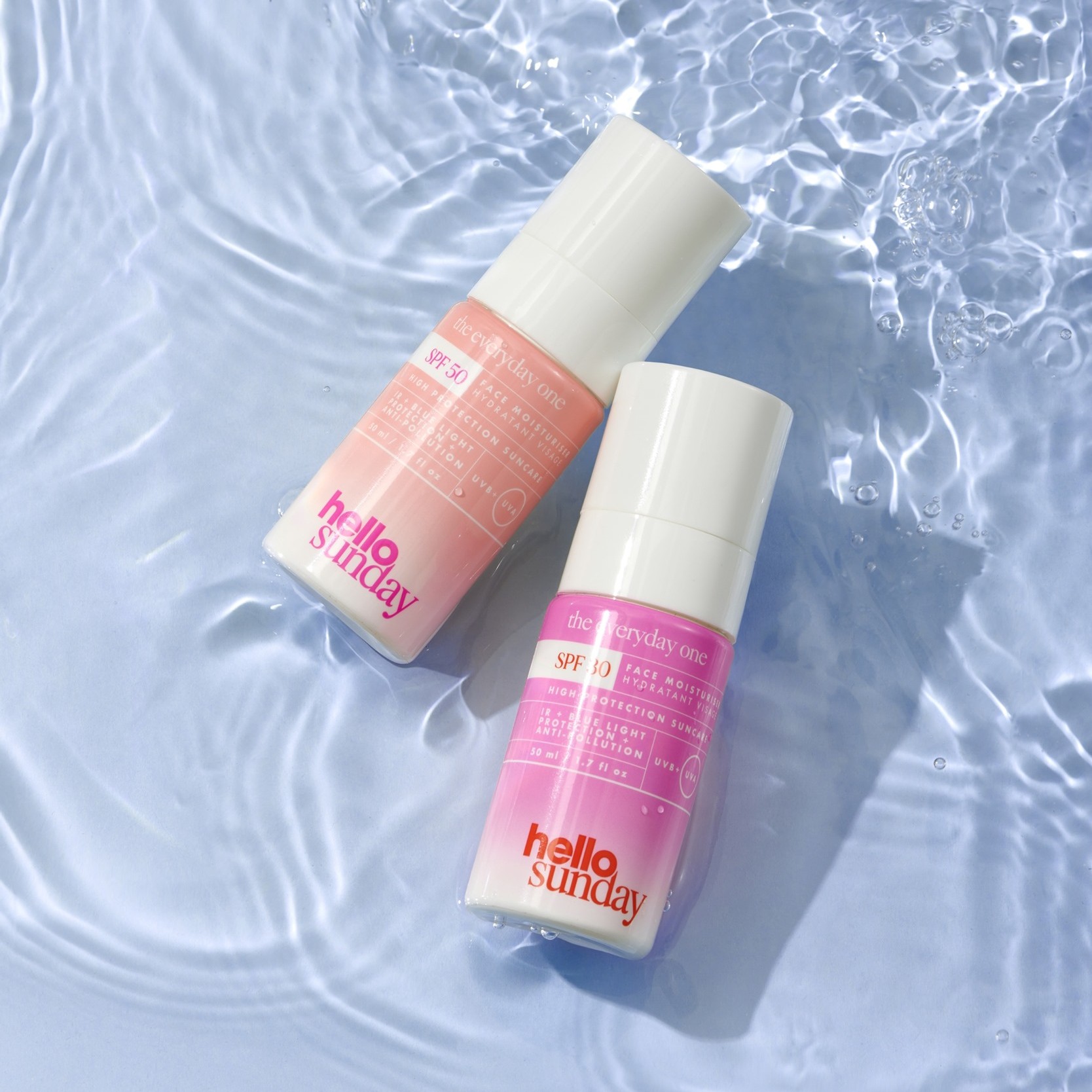 What Is the Best Hello Sunday Product for You?
Now that you've met the brand, it's time to introduce the products. Hello Sunday offers a complete range of sunscreens for the face and body, with plenty of options to suit your skin type and sun exposure needs. Shall we get to know them?
Hello Sunday "The Everyday One" Face Moisturizer SPF50
A classic with a twist
This hardworking moisturizer features broad-spectrum UVA/UVB protection, along with protection against blue light. If you're a bit of a city slicker looking for a practical, barely-there sunscreen to wear every day, this might be your match. Lightweight and quick to absorb, you'll barely notice you're wearing it!
The formula is fragrance-free and vegan, featuring just the right blend of hydrating and shielding ingredients.
---
Hello Sunday The One That´s A Serum Moisturizing Serum SPF50
A luxe take on sun protection
If you want your sun protection to feel just a little bit fancier, look here. This silky, fast-absorbing serum combines the best of skincare and sun protection in a single product. The formula contains both hyaluronic acid and vitamin C, two tried-and-tested skincare ingredients that will leave your skin feeling fresh and radiant.
Use this fragrance-free serum as the last step of your skincare routine, and you will also find that it works perfectly as a makeup base!
---
Hello Sunday "The One That's Got It All" Sun Primer SPF50
The water-resistant champion
Name a feature, this sunscreen's got it. Lightweight, invisible, sweat- and water-resistant, UVA/UVB protection, SPF50, and fragrance-free to boot. What else is there to ask for? This is the true do-it-all for a busy lifestyle: wear it as a makeup primer to hold your makeup in place, or apply it just before your workouts for sweat-resistant protection.
---
Hello Sunday "The One For Your Lips" Lip Balm SPF50
Nourishing and fragrant
A lip balm with SPF50? Sign us up! Formulated with shea butter and hyaluronic acid, this irresistible lip balm will not only keep your lips soft and nourished, but also provide protection against the damaging effects of sun radiation. The formula is invisible, light as a feather, and lightly fragranced with a floral touch of monoi.
---
Hello Sunday "The Essential One" Body Lotion SPF30
The only body sunscreen you'll need
We've seen a lot of face sunscreens so far, but what if you're headed to the beach? Then you'll need this body sunscreen with SPF30. With a lightweight gel-cream texture that melts into the skin, absorbing quickly and easily, this formula is also fragranced with uplifting lime, geranium and mint. Comfortable, fresh, and water-resistant, this is the only sunscreen you'll need to enjoy your day at the beach or pool.
---
Hello Sunday "The One For Your Hands" Hand Cream SPF30
The essential hand sunscreen
Your hands deserve sun protection too–think of how exposed they are! To help you protect your hands from the sun, Hello Sunday has created this ultra-light, quick-absorption hand cream with SPF30. The fragrant formula contains both aloe vera and hyaluronic acid, so it provides plenty of repairing and moisturizing benefits!
---
Hello Sunday "The Take-Out One" Invisible Sun Stick SPF30 30g
The secret to easy reapplication
This practical stick exists to make your sunscreen application (and reapplication) as convenient as possible. Just twist the applicator, swipe the stick against your skin, and you'll be good to go! The completely invisible formula won't leave any residue, but it will definitely protect you with SPF30. It's also sweat-resistant, making it ideal for outings and workouts. We're fans!
---
Now that we've introduced you to the full range of Hello Sunday sunscreens, we can't wait to hear your thoughts. Are you leaning towards the classic face sunscreen with SPF50, or feeling the pull towards the all-in-one sunscreen primer? Whatever you choose, we're sure it's going to be the right decision. Just make sure to apply it every day, rain or shine!