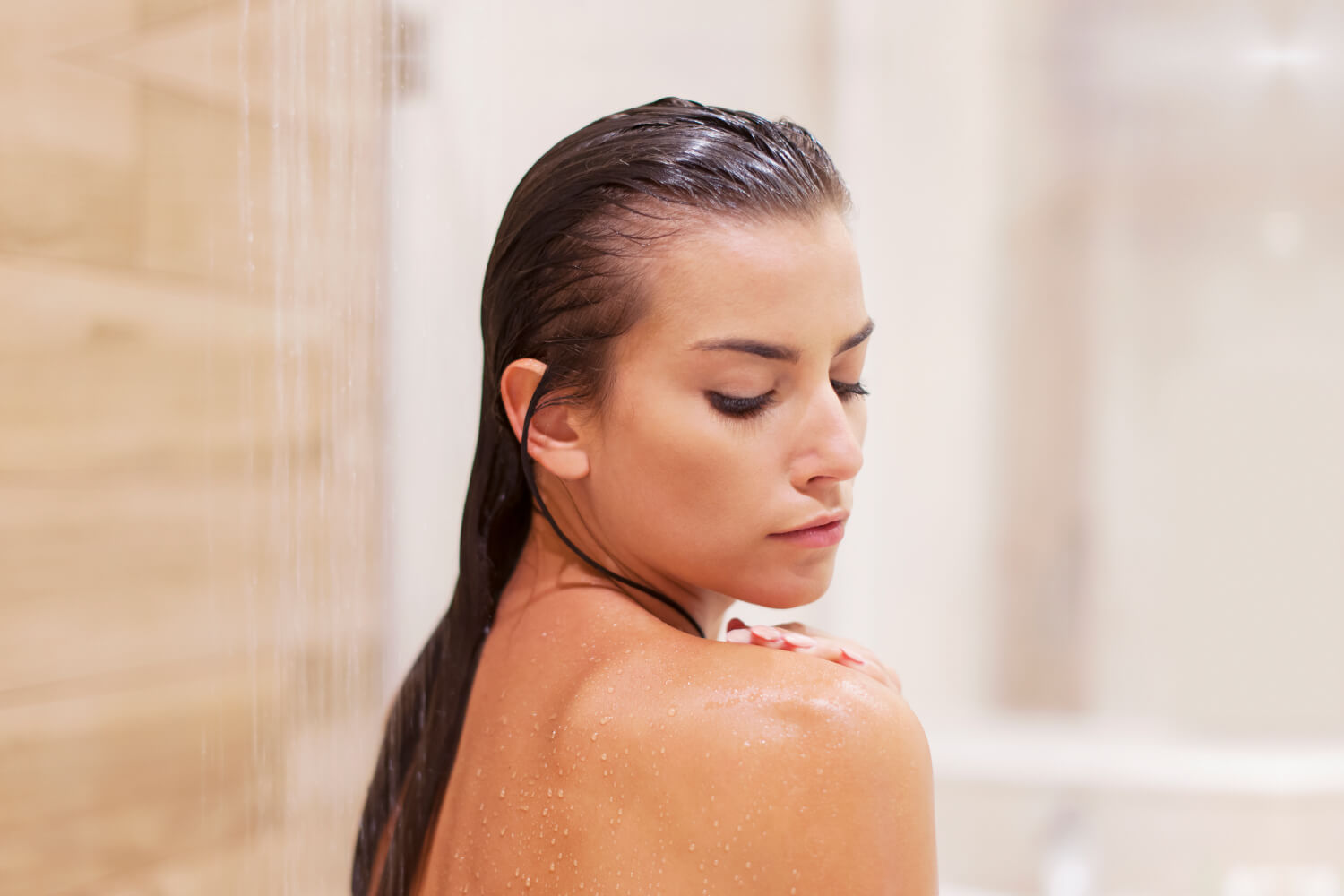 You know all about showers. You know all about bubble baths. But how much do you really know about the "everything shower", a new body care trend that's currently all over social media? Today, we're taking a deep dive into the "everything shower" universe. What is an "everything shower", and how is it different from a normal shower? Does it take longer? Does it imply having to use a bunch of products you normally wouldn't? What's the point of it all?
We're answering these questions, asking a couple of extra ones, and then… we're putting it all together with a step-by-step guide to the ultimate "everything shower". Time to come clean!
---
On this post:
---
What is an "everything shower"?
More than just a shower, an "everything shower" is a self-care routine that involves a series of body and skincare practices. Basically, it's a super elaborate shower in which you take care of all your hygiene and pampering needs, one after the other, in a pre-planned but laid-back way.
An "everything shower" can be a great opportunity to catch up on your body care routine, but it can also be an invitation to spend some time with yourself. By prioritizing the well-being of your body, you can also promote your mental health. (Just keep in mind that showering is not a substitute for actual mental health care and support.)
Can anyone take an "everything shower"?
"Everything showers" are for everyone! However, it's true that some people can benefit more than others from this shower practice. If you're the type of person who derives a tremendous feeling of achievement and satisfaction from crossing off checklists and taking things one step at a time, you may find that this shower practice is pretty much ideal for you.
In direct opposition, if you're the type of person who loves to kick back, relax, and feel like you're in a spa… the "everything shower" routine also has your name written all over it. Can you imagine anything more relaxing than taking time to take care of yourself and your body, from head to toe, and then back up again?
How often should you have an everything shower?
Because an everything shower can be an involved process, we recommend taking one around once a week, at most. You can also reserve the practice for when you feel like you really need a break: maybe you'll do it once a month, or whenever you feel like it!
How long should an everything shower last?
The duration of an "everything shower" can be longer than a normal shower, but be careful not to spend too much time in the water if you have very dry or sensitive skin. The American Academy of Dermatology recommends that people suffering from eczema or psoriasis limit their showers and baths to somewhere between 5-20 minutes.
However, it is important to recognize that there is no scientific consensus on the ideal duration of a shower. Just go with whatever feels right for you and your skin, and make sure to moisturize when you step out!
12 steps for a complete "everything shower" routine
The idea of ​​having an "everything shower" can seem overwhelming, so we decided to boil it down to 12 steps that will benefit your skin and hair, without overlapping or canceling each other out. Keep in mind that you can skip steps that don't suit your lifestyle–maybe you have hair so short that a hair mask would be overkill, or maybe you don't like anti-cellulite treatments at all. The whole point of the "everything shower" is to put together a routine that suits you. Shall we begin?
1. Face mask
This is one of the best pro tips we can share with you: you can use your time in the shower to put on a face mask! Choose your favorite mask (it can be a purifying clay mask, or a hydrating mask like the Hello Sunday The Recovery One Glow Face Mask) and apply a thick layer to your face. Then, walk into the shower and carry on as usual! You'll be cleansing it off at the end of your shower, but in the meantime? Your skin will reap the benefits.
---
2. Scalp scrub
Let's start the hair routine with a product that you may or may not be familiar with: a scalp scrub. Scalp scrubs are great: they help remove debris from the scalp, create a feeling of cleanliness and purity, and help promote microcirculation (due, in large part, to all the massaging you have to do to apply them). We recommend using a mild scrub and not using it too often: once a week is more than enough!
If you think your scalp might be too sensitive, feel free to skip this step.
---
3. Shampoo
Shampoo is an absolutely essential part of any shower: be it the "everything" variety or not! Here at Care to Beauty, we are not a supporter of overly strong shampoos: we like mild shampoos that clean the hair just enough, without stripping it of its natural oils.
If you use a lot of styling products, you can choose to use a clarifying shampoo during your everything shower. Use a clarifying shampoo once a week (no more!) to remove impurities and build-up product from your hair and to restore its natural beauty and lightness.
---
4. Body wash
You've already wet your hair, applied your scrub or shampoo, and now you can start thinking about body care. We recommend starting your body care routine with a gentle body wash that allows you to remove impurities from the skin's surface. Don't worry about scrubbing just yet: we'll get to that!
---
5. Conditioner or Mask
Back to hair: it's time for a conditioner or hair mask! We know we've just about started our "everything shower", but it's never too early to nourish your hair. Our recommendation is that you apply your favorite conditioner or mask and then put your hair in a claw clip (or a shower cap, if that's how you roll) during the rest of your shower. This will allow the product to spend much more time in contact with your hair, for optimal results.
---
6. Body scrub
Now's the time to scrub away at dead skin cells and impurities. For fans of silky smooth, glowing skin, this is where the real work begins. We're big fans of body scrubs, here at Care to Beauty, and we're particularly into those beautifully scented sugar and salt scrubs.
However, there are two situations where we would advise skipping these super-sensory scrubs with and going for something gentler:
If you have very sensitive skin. Instead, try using a body scrub with jojoba beads that will burst when in contact with the skin, for a nourishing and–most importantly–scratch-free experience;
If you're going to shave afterwards. Sugar and salt scrubs feel amazing, but they may be a little too harsh to use right before another relatively harsh process: that of running a blade against your skin! In this situation, a gentle exfoliator will be a much better choice.
---
7. Shaving cream
Are you a razor shave kind of person? Then now's the time to get it done. After all, you've already done all the necessary prep: you've been in the steamy shower for a while, you've cleansed, and you've exfoliated.
Now, before you pick up that razor, make sure you've got some hydrating shaving cream at hand. Using a shaving cream will decrease the friction between the blade and your skin, thus allowing you to have a smoother, more practical shaving experience, without any undesirable side effects (such as irritation, razor burn, or ingrown hairs). Needless to say, the quality of your blade is also important: make sure you keep it sharp!
---
8. Cellulite treatment
Not all cellulite treatments are designed to be used in the bath or shower; however, the ones that are are a perfect idea to include in your "everything shower". You must have already come across some of these treatments for cellulite that are applied to damp skin, using a specific applicator. More often than not, these cellulite massagers are designed to apply pressure to the affected areas, which helps promote blood flow to the skin. When used in tandem with a targeted anti-cellulite product, these in-shower massagers can also promote absorption of active ingredients, which in turn promotes better, more visible results.
---
9. Foot exfoliator
Your feet also deserve attention during your "everything shower"! You can (and should) take advantage of the fact that your skin is already moist and clean to carry out a foot exfoliation. You can do this in two ways: you can use a foot file on damp skin to remove rough, hardened patches of skin, or you can wait until you're out of the shower to apply a targeted foot exfoliant. We like the Akileine Exfoliant Foot Peeling Cream (on towel-dried skin) or the SVR Xérial Peel Exfoliating Foot Mask (on dry skin).
---
10. A lukewarm rinse
After all these products and procedures, it's time to turn on the shower water and rinse off your skin. Use lukewarm water, not hot, and try not to overdo the amount of time you spend under the water: your skin might get a little dry!
Don't forget to rinse off your hair conditioner or mask, which has been working hard to nourish your hair. Enjoy the feeling of your silky smooth hair!
Did you follow our tip about getting in the shower with a face mask on? Then it's time to remove it.
---
11. Face cleanser
You can choose to wash your face in or out of the shower, but one thing is for sure: you should save this step in your routine for the end of your "everything shower". By leaving the face cleansing step until the end, you are not only removing impurities, but also product build-up that may have accumulated during this product-heavy shower. We're not just talking about face masks that you might have gotten into the shower with, but also shampoo or hair mask residue that may have dripped from your scalp during the shower.
When it comes to specific recommendations on face cleansing, we have a couple: use gentle cleansers (leave peelings and exfoliants for another opportunity), and make sure to rinse off your face with lukewarm (not hot!) water.
---
12. Body lotion
The final step of a proper "everything shower" has to do with moisturizing your skin. After all this polishing up, you have to make sure your skin has the nutrition it needs, and the best way to do that is to hydrate it right after you shower. You have several products to choose from: we are fans of simple and effective body lotions, such as the Neutrogena Deep Moisture Body Lotion Dry Skin, but we are also easily seduced by super fragrant products such as the Clarins Aroma Tonic Hydrating Oil-Balm.
---
After all these steps, you should be a pro in the art and science of "everything shower". Remember that you can always reduce or add steps according to your personal preferences: why not add a self-tanning session to this elaborate routine? The sky's the limit!