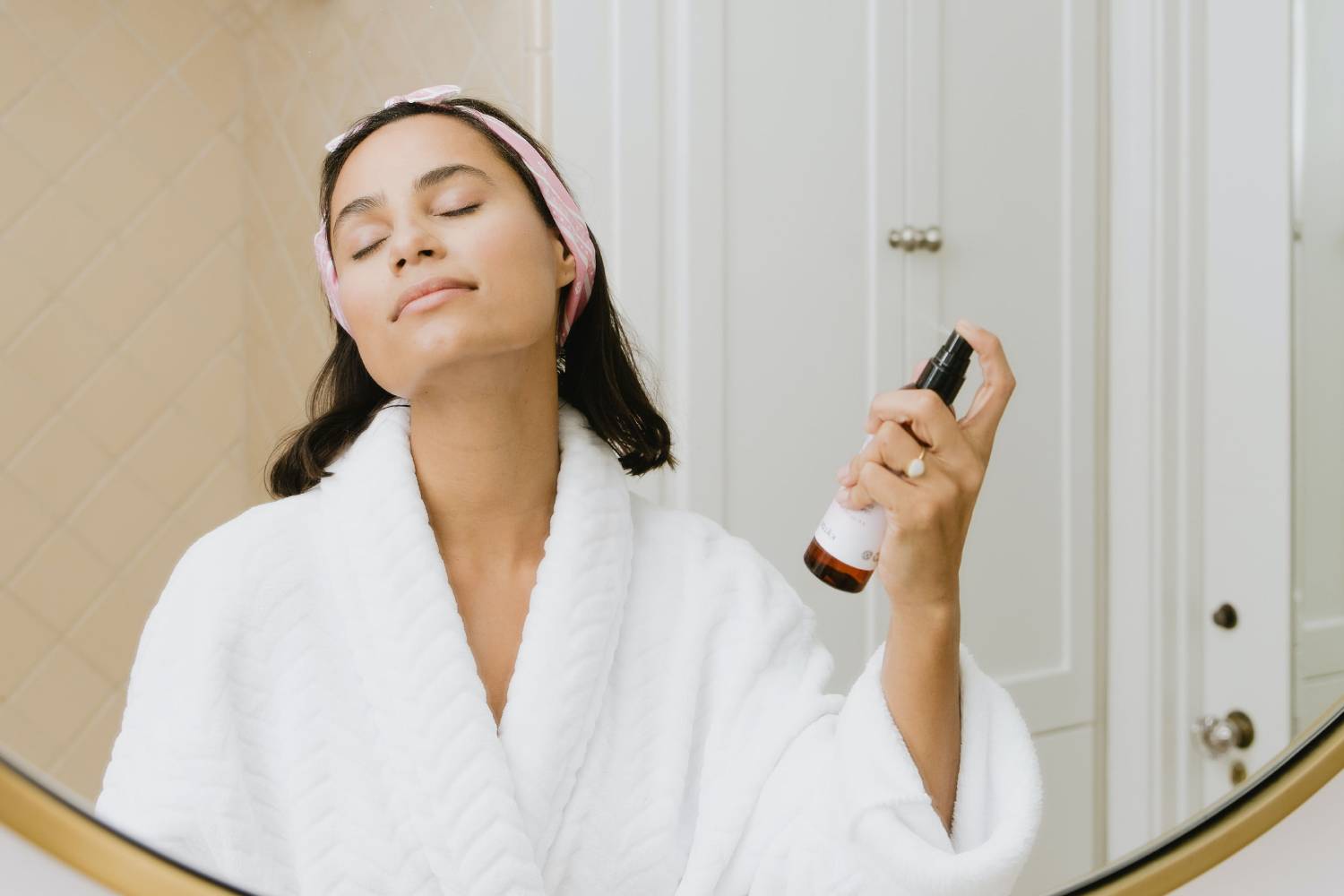 For all skincare lovers, face mists are a beauty step that you won't like to skip. It's fresh, it's quick and energizing like no other. In addition to the results, it's a pleasure to apply them! It feels indulging and works as the best pick-me-up skincare. But it's not all about the experience, as it also can be a great way of adding powerful ingredients to your beauty routine. We're starting by answering what is face mist and then going on how to use it. Get ready to have a new skincare favorite step!
What is a face mist?
Let's start with the easiest question! Face mists are a skincare product—with a base of water, infused with skin-transforming ingredients—that deliver all its benefits in a brume. It's easy to apply, incredibly invigorating, and it's compatible not only with your skincare routine but also with your makeup. Thanks to its lightweight texture, it suits all skin types and has a place in any skincare routine.
Face mist benefits, listed
Now that you know what are face mists, it's time to ask which are the face mist benefits. It may be a simple question, yet it requires a lengthy answer to be properly addressed. Let's start by discussing the types of benefits: the first three apply to basically any type of face mist; beyond that, we're listing benefits that may vary depending on the ingredients of each formula.
1. It cools down the skin in the heat
Regardless of the product you're using, applying a face mist is always a refreshing experience that feels more than welcome on hot days!
2. Feels lightweight upon application
Especially interesting for sensitive skin, face mists allow product application without the need of massaging it. It's ideal for the skin that tends to overreact to any physical stimulation since face mists allow an application without creating friction of cotton pad/hand massage application.
3. Allows application over makeup without disturbing the result
Actually, it's the only skincare product that has this ability. With a texture as light and fine as no other, it sits and blends on the skin effortlessly, without you even noticing it.
4. Hydrates the skin on the go
An interesting skincare add to all skin types, hydrating mists are perfect to provide your skin with an extra layer of hydration. Especially if you have dry or dehydrated skin, it provides immediate comfort upon application. The good news is that you can apply your favorite as many times as you like during the day. Mario Badescu Facial Spray with Aloe, Herbs and Rosewater is a good example of a hydrating toner, suitable for all of those in need of a hydrating boost!
5. Grants a soothing action for sensitive and reactive skin
The quest for comfort is never over if you have sensitive or reactive skin, and face mists can be of great assistance in providing immediate soothing action. You may resort to the well-known thermal water, such as Avène Thermal Spring Water, or for a different formula that adds further calming actives for your skin wellness, like Sensilis The Cool Rescue Hydra-Soothing Mist.
6. Allows easy SPF retouch, with or without makeup
As proper sunscreen devotees, this is one of our favorite types of face mist. By now you already know that's advisable to reapply your sunscreen every two hours, but it's not always easy to do so with conventional formulas. That's when SPF mists come in handy! If you go for formulas like La Roche-Posay Anthelios Anti-Shine Invisible Fresh Mist SPF50 can or Hello Sunday The Retouch One Sun Face Mist SPF30, you can apply it over your face without the need of massaging it in. In addition, it's so lightweight that won't weigh on your skin after a few consecutive applications. It's also perfect to apply over makeup without disturbing your beautiful look. It's just as perfect as it sounds!
7. Protects from pollution and other environmental aggressions with a urban shield
For all city dwellers, this is a great ally to carry around e apply when you feel like it! Continuous exposure to pollution is a serious hazard to your skin, so an anti-pollution face mist is more than welcome. Featuring antioxidant ingredients or other anti-pollution actives, face mists like Galénic Aqua Urban Pollution Defense Mist is exactly what you need for your urban lifestyle.
8. Boosts glow for beautiful skin
Last but not least, who wouldn't like a beautifying or glow booster for a quick pick-me-up? These types of face mists are ideal for those who like radiant skin as well as for those who care as much for the experience as they care for the results. Take as an example Caudalie Beauty Elixir; once you apply it, you'll find yourself considering the beautifying action and the pleasant fragrance a must-have!
How to use a face mist
Once you choose your favorite face mist, the application is easy-breezy. The actual application part shouldn't raise much difficulty—all you have to do is to take the cap off and apply it from a distance (from about 15cm or 6 inches). Apply as much as you feel like and then allow it to dry!
Now that you're clear on how to apply it, it's time for the follow-up question: when to apply a face mist? To answer that, we have to go into detail about different face mist functions and which kind of mist would be a good fit for that.
As a face toner
To use a face mist as a face toner, you'll need to choose a formula without SPF, and preferably that comes with an added skincare action, like hydration. If you're going to use your face mist as a toner, the application order is fundamental. You should apply it after cleansing the skin, and before your face serum or moisturizer.
As a refreshing mist
If you're using your face mist to refresh the skin throughout the day, you can go totally freestyle. You can use any face mist formulation for this purpose! Apply it over bare skin or over a full face of makeup. You can apply it every hour, or only once a day! There's no wrong or right when you're using a face mist as a refreshing mist. That's the use they were first born to, to refresh the skin anytime you feel like it, regardless of what you already have on the skin.
As a makeup primer
An interesting way of using your face mist is before your makeup. We kindly called it a makeup primer, considering that it can go under the foundation—but it won't replace the makeup primer if you like using one. It contributes to prepping the skin for makeup, adding further comfort and freshness. All face mist formulas are a good fit for this job, as long as the benefit it provides suits your needs.
Other uses
To complete the chapter on how to use a face mist, we've decided to cover the less common uses that may result from trends. If it's a good trend, we're here to support it and even endorse it! That's the case with the following uses of face mists.
Hyaluronic acid sandwich
If you've never heard of it, we understand that it may sound odd. Fortunately, the name is pretty self-explanatory and intuitive. To make this sandwich, all you need is your favorite face mist as well as your hyaluronic acid product (essence, serum, or moisturizer). The face mist is the bread of the sandwich, so you start by applying a generous slice—or layer—of it. Then, you proceed with the filling, that for this recipe will be the application of your favorite hyaluronic acid product. Lastly, you finish it with an application, again, of your face mist, and your sandwich is ready!
This trend emerged based on the premise that hyaluronic acid molecules hold up to 1000 times their weight in water. So, if you layer your hyaluronic acid on a bed of moisture and cover it with another layer, it should be beneficial for your skin's hydration levels. Are you going to try it?
Makeup sponge activator
For foundation makeup wearers that love a good sponge application, this one is for you! Instead of prepping your sponge by soaking it in water, try to spritz it with your favorite face mist (formulas with SPF wouldn't work as well for this job). You'll love the results! Your foundation will look more radiant and blend like a dream.
---
Since we've covered all that is to say about face mists, it's time to talk makeup setting sprays! Find which option best suit your needs and keep your makeup all day looking fresh.