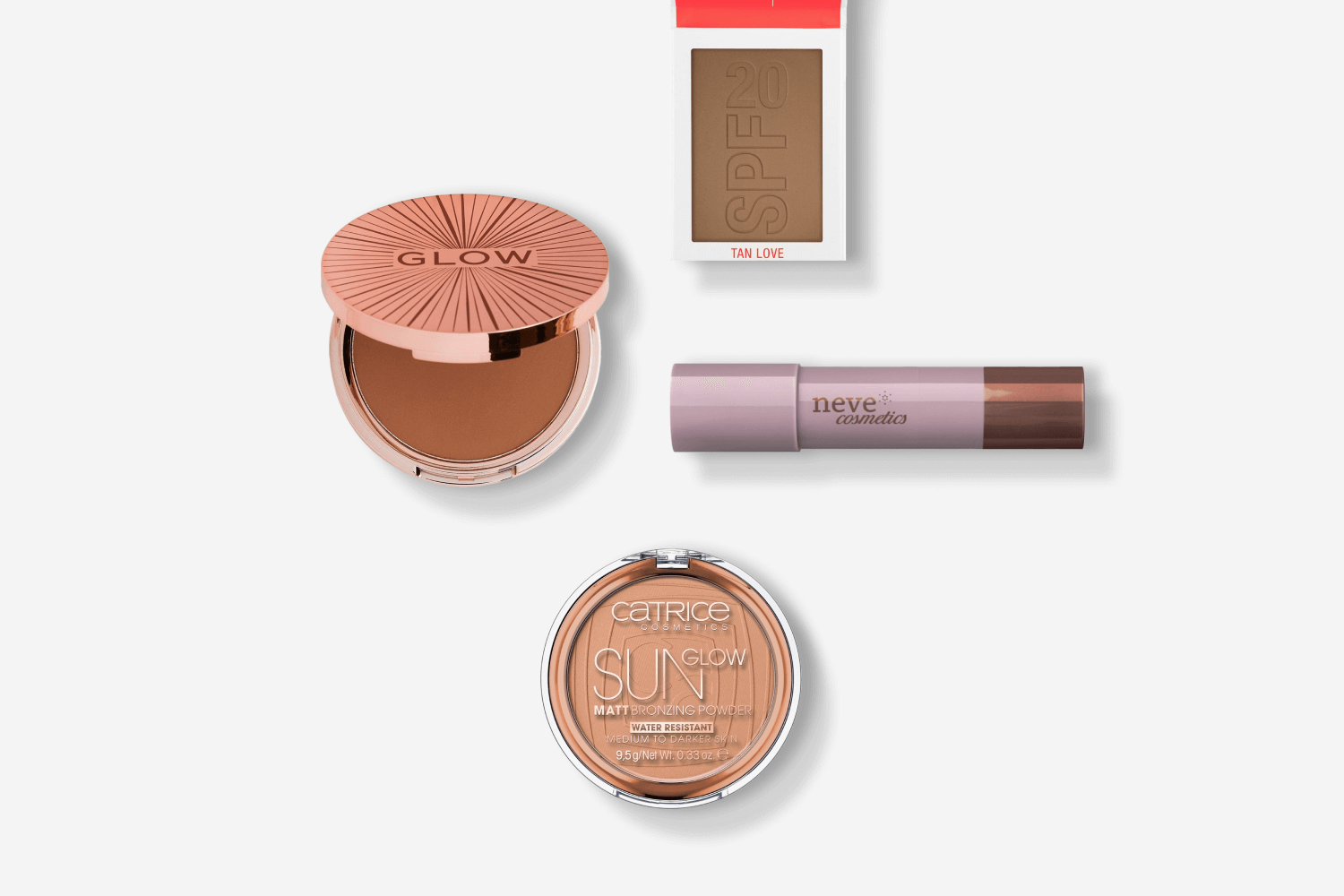 Bronzer is that exciting step of makeup that adds a lovely warmth to your looks. We love how matte bronzers elevate any makeup look by creating dimension and defining facial features. The application is easy enough, so you should be able to incorporate it into your routine even if you're not a master in makeup. If this all seems too complicated, come with us to learn what are they and which are the best matte bronzers!
What is a bronzer?
A bronzer is a makeup product that adds warmth to your look, contributing to creating a tanned, bronzed complexion. It may have a powder, liquid, stick or cream presentation, and it may be in a matte or shimmery finish. Even though they can be found in different textures, it's definitely more common to find them in powder compacts. It's usually applied to the cheeks, temples, forehead and bridge of the nose to add a tan appearance to your complexion. Many makeup artists recommend applying bronzer where the sun would hit your skin, so your complexion looks tanned in the most natural way. Today, we're focusing on matte bronzers and what they can do for your makeup look!
What is a bronzer used for?
Bronzer is used to add depth to your makeup looks, creating a game of shadow and light. By creating areas where your skin is tanner, you're adding dimension to the face all the while adding definition to your facial features—especially with matte bronzers. Bronzer is a makeup step often confused with blush by makeup beginners, since it's also used in the cheeks area. The main difference is that blush is a flush-like shade that is used to add lively color to the cheeks, while a bronzer is a natural tan color that is used to add warmth to the contours of the face (not only to the cheeks).
Bronzer is the product that made people stop using darker foundation shades to make them look tanner! Using a matte bronzer makes it much easier and more natural. If you want to achieve a sun-kissed look, you should stick to a foundation that matches your natural skin color, and then go in with a matte bronzer to create a tanned complexion. If you think that bronzer is not enough to lead you to the sun-goddess level you're looking for, then you should take a look at facial self-tanners. They may be what you need to achieve that look, and you may even go further and add a matte bronzer on top!
Matte vs shimmery bronzers
You'll find two different types of products: matte bronzers and shimmery bronzers. While the shimmery formulations are a nice all-in-one to add highlighting shimmer and bronzing hues, it may not be ideal to apply over textured skin (enlarged pores, wrinkles, etc). Also, you should use it sparingly, when compared to a matte formula, to avoid adding too much shine to your looks.
We think that we may sum up to this: matte bronzers warm the skin and create a sense of depth, creating the illusion of sculpting facial features. On the other hand, shimmery bronzers capture and reflect light with the shimmery particles, counteracting the effect of depth that the dark shade offers.
Are all bronzer shades the same?
 
Bronzers are not all the same, as they vary not only in finish but also in shade. The right shade for you depends on your natural skin tone, with only a range of shades being the perfect fit for your complexion.
You should go for a bronzer with a shade and a finish that works with your skin tone and texture. As a general rule, your bronzer should be a couple shades darker than your natural skin tone. However, there are nuances: 
If your skin is best described as very light, a dark bronzer is not going to deliver the result you want. You may end up looking orangy and patchy, which is probably not the look that you desire! Look for a bronzer especially developed for light skin, and then you'll see the power of a bronzer;
On the other hand, if your skin is naturally tanned, using a bronzer that is not contrasting enough may look greyish. Your bronzer should be a couple shades darker than your natural skin tone to create dimension and break that flat look of foundation alone;
If you have Black skin, specifically Black skin with a blue undertone, bronzer may not actually be useful in achieving a more multidimensional look. In order to define and sculpt your facial features and create dimension, we suggest using highlighters (with or without shimmer) to create contrast and depth. Illuminating products, however, are not supposed to be used in the same areas as bronzers. Apply them to the highest points of the face, like on the top of the cheeks, on the center of the forehead, and on the upper lip and chin, for example.
The best matte bronzers
Now that all the wonders of using matte bronzers are revealed, it's time to pick one and go. As usual, we have a few suggestions for you, with formulas and shades that fit your needs. Scroll the options and pick the best matte bronzer!
essence Sun Club Matt Bronzing Powder
Here's an example of a matte bronzer that comes in two different shades. Once you pick the right one for you, get the tanned look that you want without leaving home! The texture blends easily—as essence makeup got us used to—so you can work the product over your base and add as much warmth as you want. It smoothes the appearance of the skin and pairs up beautifully with other matte makeup products. Get that sun-kissed look in a blink of an eye!
---
Catrice Sun Glow Matt Bronzing Powder
Bronze on with a water resitant formula that keeps you looking tan no matter the conditions. Get that tanned look with a formula that brings on the glow without adding shimmer. Suitable for the face and body, this matte bronzer also presents in two different shades, that you should pick considering your natural skin tone. Don't be afraid and build the product until you reach that desired golden tone.
---
NYX Pro Makeup Matte Bronzer
Define and sculpt your features with this beautiful matte bronzer that comes in three different shades to work with your natural skin tone as no other. Lightweight and easily blendable, this powder works with other powder makeup like the professional it is. Sheer and buildable, the powder allows you to create a flawless bronzed look that feels natural and flattering.
---
Makeup Revolution Glow Splendour Bronzer
Here it is, the most inclusive bronzing powder that comes in four different shades! From light to dark complexions, you know that here you'll find a solution to warm your makeup looks. Matte and summery, this bronzer from Makeup Revolution is pigmented and deliciously fragrant, with notes of coconut and pineapple. Use your favorite face brush to dust and blend this beauty powder and take your makeup look to the next level.
---
W7 Makeup Honolulu Bronzing Powder
Fine and light, this matte bronzer does as much for your skin tone as a day in the beach. The formula is matte and buildable, granting that your bronzer is never going to look overdone. It's long-lasting and incredibly blendable, allowing an easy application for a look that won't fade as the day unfolds. It's fair to say that your makeup look is only finished once you have this matte bronzer on!
---
Catrice Sunclusive Face & Body Bronzer SPF20
This vegan powder is a key product to welcome the sunnier days with a touch of tan. With SPF20, it's ideal to reinforce your sun protection on summer days! The application, though, is just as simple as for any other formula. You'll just need to grab your favorite bronzing brush and apply it as generously as you feel! Why not apply it to the eyelids as a bronzing eyeshadow? It's certainly a great way of adding extra sun protection to such thin and delicate skin.
---
Neve Cosmetics Star System Bronzer
Here's a different example from all the previous when it comes to presentation: a stick/cream bronzer. Easy to apply and blend, this product is perfect to contour or add warmth to the skin and your complexion. The formula is vegan, as most of the previous, and can be used not only on the cheeks but also on the forehead, nose and even on the eyelids as an eyeshadow or eyeshadow primer. It's your call!
---
For more on cheek beauty, we think you may also like to try a glowy blush for naturally radiant cheeks. We encourage you to add some shimmer and lively color to the complexion to elevate your bronzed look!