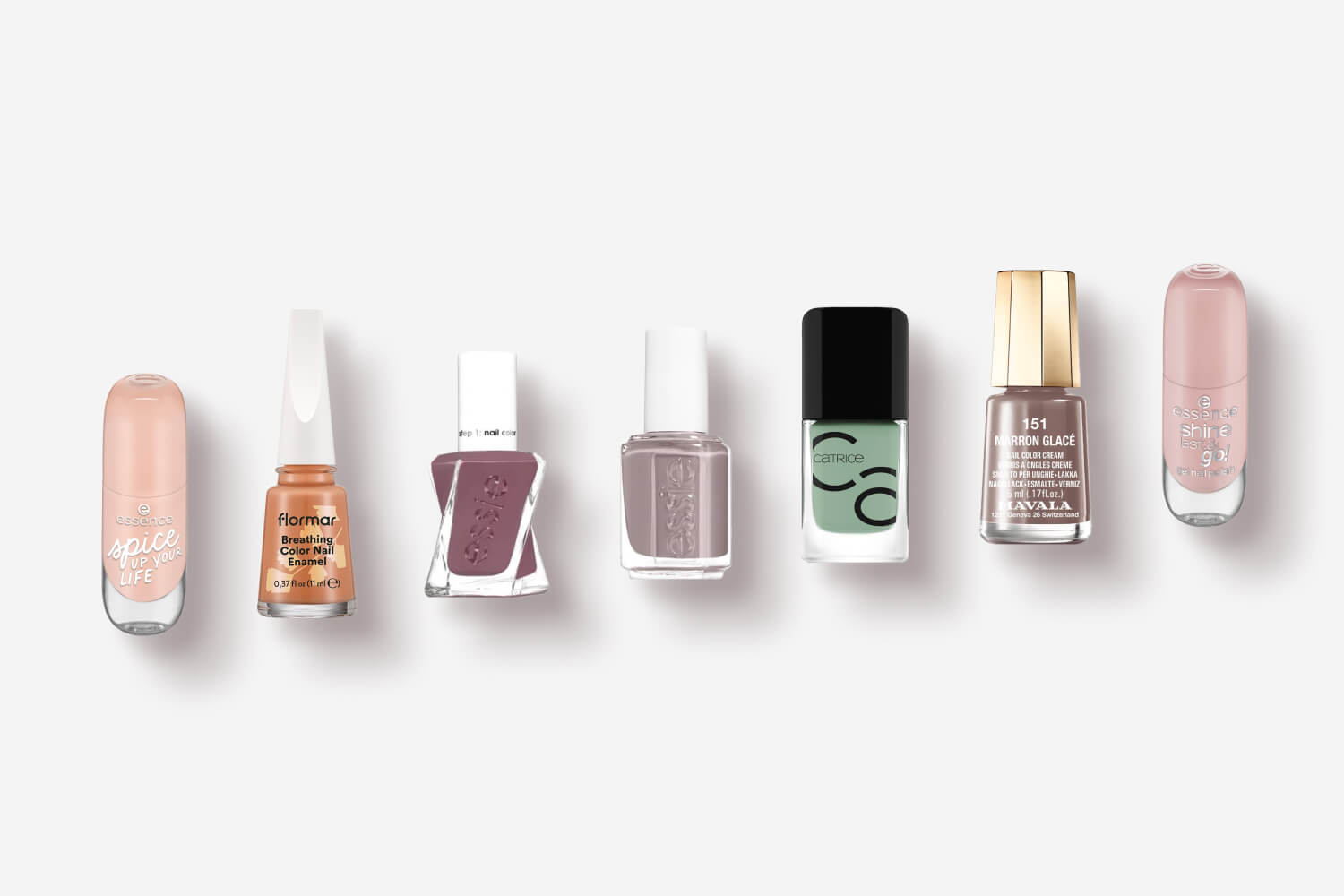 Nude nail polish is always a safe, classic choice, but what if you wanted to make it a little less safe? What if, say, you wanted to do away with the classic beige and try something new? Pink and peach could work as good, neutral nail colors, yes, but let's take it a step further–what about a muted orange, or a warm olive green? Today, we're going to explore some unlikely nail colors that work just as well as traditional "nudes". Will you join us?
---
Beige
Let's ease into our exploration of nude-and-neutral nails colors with the obvious option: beige. Beige is what most of us think of when we think of "nude", but surprise surprise, beige won't quite work for everyone. Some of us are a little too fair and pink-hued to wear the warm, sandy undertones of many beige nail polishes; some of us are dark-skinned, and have never once believed beige could be a "nude" color!
If you, however, believe in the supremacy of beige nail polish, we've got two very neutral options that might just work for you:
The essence Gel Nail Colour 09 Spice Up Your Life is a light, peachy beige that plays well with multiple skin tones. On the other hand, the Flormar Nail Enamel 79 Beige Desert is a gorgeous latte shade, darker and richer than your average "beige nudes".
---
Orange
We've done beige, now let's do orange. Can orange nail colors be "nude" nail colors? We think so. A light creamy orange can look stunning on warmer skin tones, and it's got a little vintage flair too. If you fancy a change, why not try an orange nude nail?
The Flormar Breathing Color Nail Enamel 21 Organic Marmelade is a beautiful creamy orange that looks very close to a traditional "nude" on medium skin tones. The essence Gel Nail Colour 23 Tangerine Ahead is a little darker and a little shimmery, perfect for a walk on the wild side while still keeping your manicure relatively neutral and subdued.
---
Purple
Purple is an underrated color in the world of nail polish, but it's incredibly versatile. It can lean blue or red, it can be softly muted or incredibly rich. And–here's the thing–if you have darker skin, purple might just be the "nude" nail color for you.
You don't have to take our word for it: the essence This Is Me Gel Nail Polish 07 Enough, for example, is actually sold as a nude shade. It's a rich burgundy-purple shade that works beautifully on darker skin tones. We also like the essie Gel Couture Long Wear Nail Polish 523 Not What It Seams, which is a tad more muted and closer to mauve. Imagine a pale plum: it's kind of like that.
---
Gray
Gray doesn't sound like a particularly unlikely nude, does it? For those tired of trying to figure out whether their best "nude" is closer to beige or pink, gray offers an obvious way out. It's subtle, it goes with everything, and it can be tweaked depending on personal preference. If you'd like to explore gray as your new nude nail color, we've got two suggestions:
The Catrice ICONails Gel Lacquer 112 Dream Me To NYC is a tough gray to describe: it's got a little bit of brown in it, and a little bit of beige, and a little bit of green, maybe? Could it be a very light olive? It's hard to say, but it's definitely a stunning neutral. We also like the essie Enamel Nail Polish 77 Chinchilly (you've probably seen this one before), a warmer gray that seems to work beautifully on pretty much every skin tone.
---
Green
Green might be our hardest sell yet, but hear us out. A light mint green can look perfectly neutral on lighter skin tones, and darker olive shades can be a near-perfect match for medium to darker skin tones. The idea here isn't to go all out with a bright neon or a rich emerald green: we're still keeping things subtle and subdued, but with an untraditional pop of color.
We'll show you a mint green first: the Catrice ICONails Gel Lacquer 96 Nap Green, which looks incredibly discreet on fair skin tones. For the right bride, it could be a perfect bridal color! On the olive side of green, we love the Catrice ICONails Gel Lacquer 124 Believe In Jade, a slightly muted military green that works beautifully on all skin tones. For a nude-like finish, we'd recommend it for medium skin tones, with that Mediterranean golden olive undertone.
---
Brown
Brown nail polish should work pretty well as a nude, right? Different browns shades can blend effortlessly with a variety of skin colors, or they can add a touch of sophisticated contrast. Brown can be as subtle or as bold as your personal preference, and we're going to show you a couple of shades that we're quite fond of.
The Catrice ICONails Gel Lacquer 116 Fly Me To Kenya is a rich toffee brown nail polish that works well as a neutral on multiple skin tones. We also like the Mavala Nail Color Cream 151 Marron Glacé, a darker shade with a touch of gray. It's just as versatile as the previous option, but the muted tone gives it extra points for sophistication.
---
Pink
Last, but not least, we arrive at pink, the other obvious "nude" nail color. Pinks can be hard to get right on warmer skin tones (ask this author how she knows), but they're made their mark among neutral nail colors, and we couldn't possibly wrap up this post without mentioning them. If you're team pink, here are two shades we love and recommend:
The Flormar Nail Enamel 397 Rose Coral is, quite honestly, a little Barbie-like. It's a very light rosy blush that looks almost milky pink on the nail–perfect for very fair skin tones that can't quite work with beige nail polish. For a warmer pink, we like the essence Shine Last & Go! Gel Nail Polish 73 Peach Please, which is exactly what it says on the tin: a peachy pink that looks stunning on pretty much any skin tone.
---
We've looked through some unlikely nude nail colors, but there's so much more to explore. Why not try a lilac, or a taupe, or a very light yellow? Anything can be a neutral nail color if you believe! Want to see more? Then make sure to explore our full selection of nail polishes and nail colors in the shop–we're sure you'll find your perfect match there!