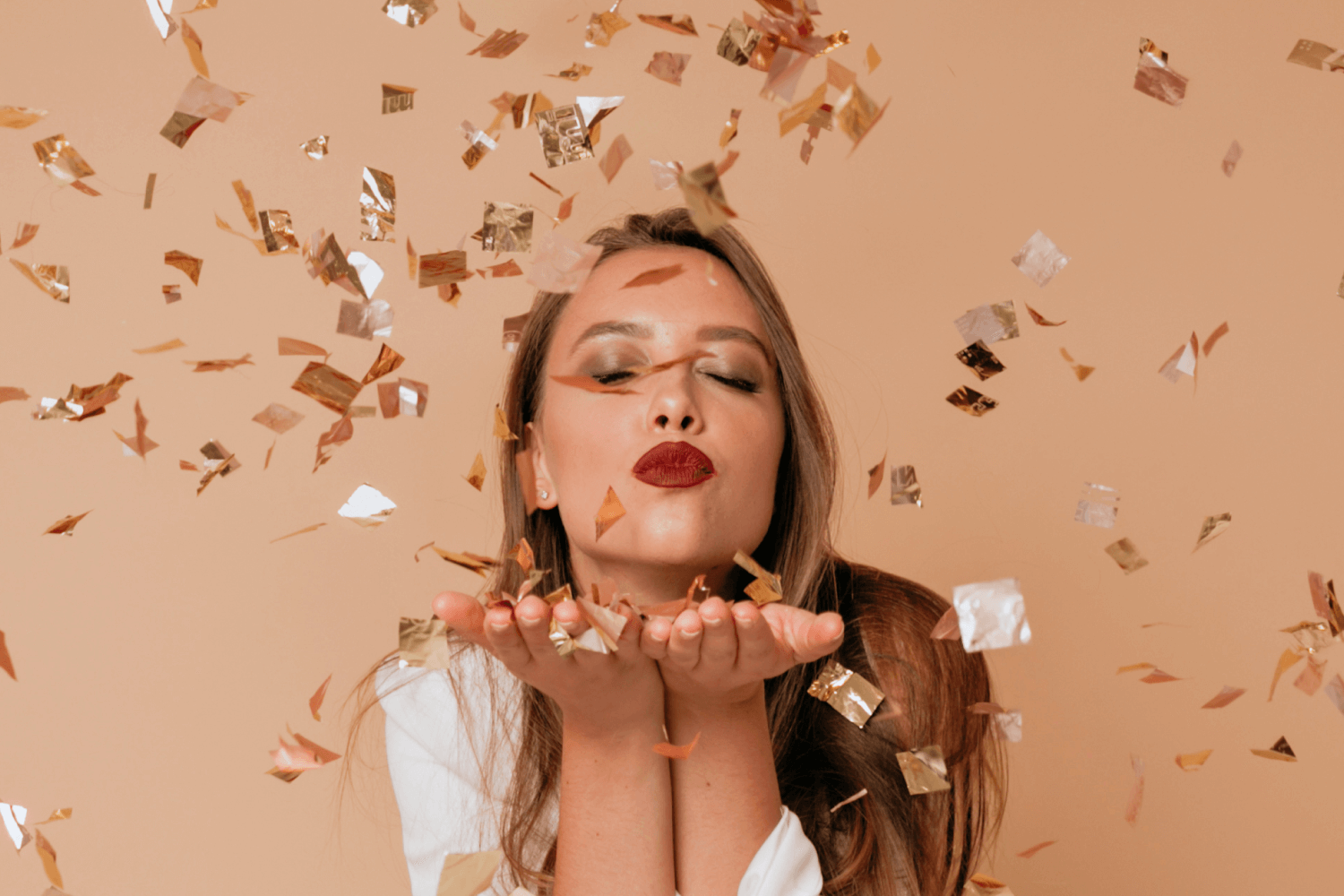 With the New Year just around the corner (it's about to be 2023, can you believe it?), it's the perfect time to rethink our beauty routines. How did you do during 2022? Did your skincare routine work for you, or did it feel like a hassle? What about your hair care routine? All good there, or have you grown bored of your tried-and-true rituals? If you want to shake up your beauty routines in 2023 but aren't sure how, don't fret. We've come up with 12 simple new year beauty resolutions in the realms of skincare, makeup, hair care, and body care. Are you ready?
Then let's start with skincare:
Skincare resolutions for the new year
Skincare is our raison d'être, here at Care to Beauty, so we could have easily come up with hundreds of new year skincare resolutions. Instead, we're keeping it simple: embrace these three tips, and you will definitely notice an improvement in your skincare game!
1. Wear sunscreen, day in, day out!
You're probably tired of hearing us go on and on about the importance of wearing sunscreen every day. We know. We know you know SPF is a big deal. However, it's one thing to know it, and one thing to commit to the daily application of a decent-sized dollop of sunscreen.
In 2023, we encourage you to prioritize the application of sunscreen every day, rain or shine. And if there's something holding you back? Let us know. Maybe you've always struggled with excess oil and sunscreen seems to make it worse, or maybe you've got dark skin and fear that sunscreen will make you look ashy… either way, feel free to drop us a message. We'll make sure to help you find the right sunscreen product for your skin type and needs.
2. Get serious about cleansing
As far as new year skincare resolutions go, this one's an old staple. Everybody knows cleansing is the cornerstone of an effective skincare routine. However, we know how easy it can be to give in to inertia and slip into bed without giving our skin a proper cleanse in the evening. Let's not do that anymore!
We're fans of double cleansing, here at Care to Beauty. You too? Then you might like our tried-and-tested double cleansing duos for different skin types.
3. Use actives with caution
Retinol, AHA/BHAs, vitamin C… we all love a supercharged skincare hero, especially when we're at war with a particularly stubborn skin issue. However, it is entirely possible to have too much of a good thing and end up with a compromised skin barrier.
When introducing new actives into your skincare routine, try to choose the ingredients that are better suited to your skin type. This is twice as important if you happen to have sensitive skin! Once you've made your selection, make sure to patch test your products, start slow, and combine any photosensitizing actives with a suitable daily sunscreen.
---
Makeup resolutions to welcome 2023 in style
Makeup can be incredibly personal, so we thought we'd keep our new year makeup resolutions simple and minimal. Instead of directing you toward brighter and bolder makeup, we're sharing three easy makeup tips anyone can embrace in 2023.
4. Keep your brows natural, but combed
Even if you don't have time for anything else, brow combing is key as it grants an immediate polished look. It requires no makeup application skills and tidies your face like no other makeup product can!
If you're happy with the tone of your brows, you may use a clear gel, like the Catrice Lash Brow Designer Shaping & Conditioning Mascara Gel. If, on the other hand, you'd like to intensify the result or even cover any stray gray hairs, a tinted product, like the L'Oréal Paris Brow Artist Pump & Set, will be a great option for you.
5. Highlight your eyes with mascara
One coat of mascara is all it takes to improve your makeup game. Besides instantly opening and awaking the eyes, we think that it even adds extra sparkle! When it comes to the intensity and result, is up to your preferences and needs.
Go for a volumizing mascara, like the Maybelline Colossal Big Shot Mascara Very Black, if you have thin and sparse lashes, or a lengthening mascara, like the Estée Lauder Sumptuous Rebel Length + Lift Mascara, if you have short lashes. If you're afraid of going all in, spare yourself the extra drama and pick a brown mascara!
6. Choose refillable foundations
We love beautiful makeup packaging, but we don't love the waste it creates once we're done with the product itself. Fortunately, there are more and more options on the market if you want to explore refillable makeup products, starting with foundation.
By investing in a refillable foundation, you will be making a commitment not only to a more sustainable beauty routine, but also to a makeup product you love that you will be able to use again and again. Take the Mi-Rê BiBi Nova Cushion Fond de Teint SPF50, for example: your first investment will always have to be the compact + foundation combo, but from then on, you will never have to pay for the compact again. Simply buy the appropriate refill as needed!
---
Hair care resolutions to adopt in the new year
It is often said that hair is one of the first things strangers notice about us when they meet us. We wouldn't want to make a bad impression! When it comes to new year hair care resolutions, we're focusing on health and sustainability for 2023. What about you?
7. Focus on scalp health
Scalp care doesn't sound quite as glamorous as hair care, but the fact of the matter is that your hair is only as healthy as the scalp it grows from. With this in mind, why not make 2023 the year of the scalp? Let us invest in skincare, but for the skin on our heads!
Most of us have struggled with common scalp concerns such as itchiness and flaking at some point in our lives. You may be among the lucky ones who haven't, but that doesn't mean you can't benefit from a targeted scalp product: why not try a scalp scrub, like the Lazartigue Purify Purifying Pre-Shampoo, to remove oil and product build-up and leave your scalp feeling truly fresh and clean?
8. Protect your hair from the heat
Hairdryers, flat irons, hair straighteners, curling wands… our hair can take a lot of heat, but we don't want to push it past a literal breaking point. If you use styling tools on the regular, we've got two handy tips for you.
First, make sure to always adapt the temperature of your styling tools to the condition of your hair; the finer and more damaged the hair is, the less heat it will be able to tolerate. Second, add a heat protection spray or serum to your hair care arsenal. These products not only protect the hair, but also help maintain the styling result for longer.
9. Explore solid hair care
Solid hair care like bar shampoo is incredibly popular right now, but some of us are still a little intimidated by it. However, there's no reason to be! If you've ever used bar soap, you won't have any trouble embracing other waterless solid formulations, like bar shampoo.
Bar shampoo comes with a number of advantages: it features a higher concentration of ingredients, it uses up fewer resources during production, and it generates less waste than traditional liquid shampoo, as you won't have to get rid of any plastic bottles once you're done. All you'll have to do is dispose of the paper or cardboard wrapping, and that is that!
---
Body care resolutions to embrace in 2023
We're going to trust that you've got your basic body care routine covered, and we'll focus our body care resolutions for 2023 on some particularly neglected body parts: nails, feet, and hands. It's all about keeping it simple, but consistent!
10. Find a nail care routine that works for you
Whether you're a fan of long, gorgeous stilettos or short and tidy nails, you're sure to have a nail care routine of some sort. If you're in the mood to reevaluate your mani-pedi ritual, the new year provides a perfect opportunity to start afresh. Consider adding some new nail polish colors to your arsenal to welcome in the new year in style!
11. Exfoliate and hydrate your feet
The skin on our bodies is often overlooked in favor of the skin on our faces… and the skin on our feet tends to be the most neglected of all. And yet, our feet are one of the hardest-working parts of our body! In 2023, we suggest taking better care of your feet with a simple exfoliation and moisturizing routine. Want to invest a little more in caring for your tireless feet? Then why not look into regular foot baths? It's your skincare routine, you can do whatever you want!
12. Replace your liquid soap with bar soap
Liquid soap and bar soap are just as effective when it comes to washing your hands and getting rid of germs. Knowing this, why not make the switch from liquid soap to bar soap? Bar soap can be a more sustainable option, as it comes in paper or cardboard packaging, and thus avoids the thick plastic bottles and tubes that liquid soap is usually sold in. Did you know bar soap is also more cost-effective than liquid soap? Win-win!
---
Now that we've brainstormed our 12 new year beauty resolutions, it's time to actually put them into practice. No one knows what the new year might bring, so we won't beat ourselves up too much if we slip up a day or two. Remember: in skincare, as in all things, we're going for consistency, not perfection. Happy New Year!