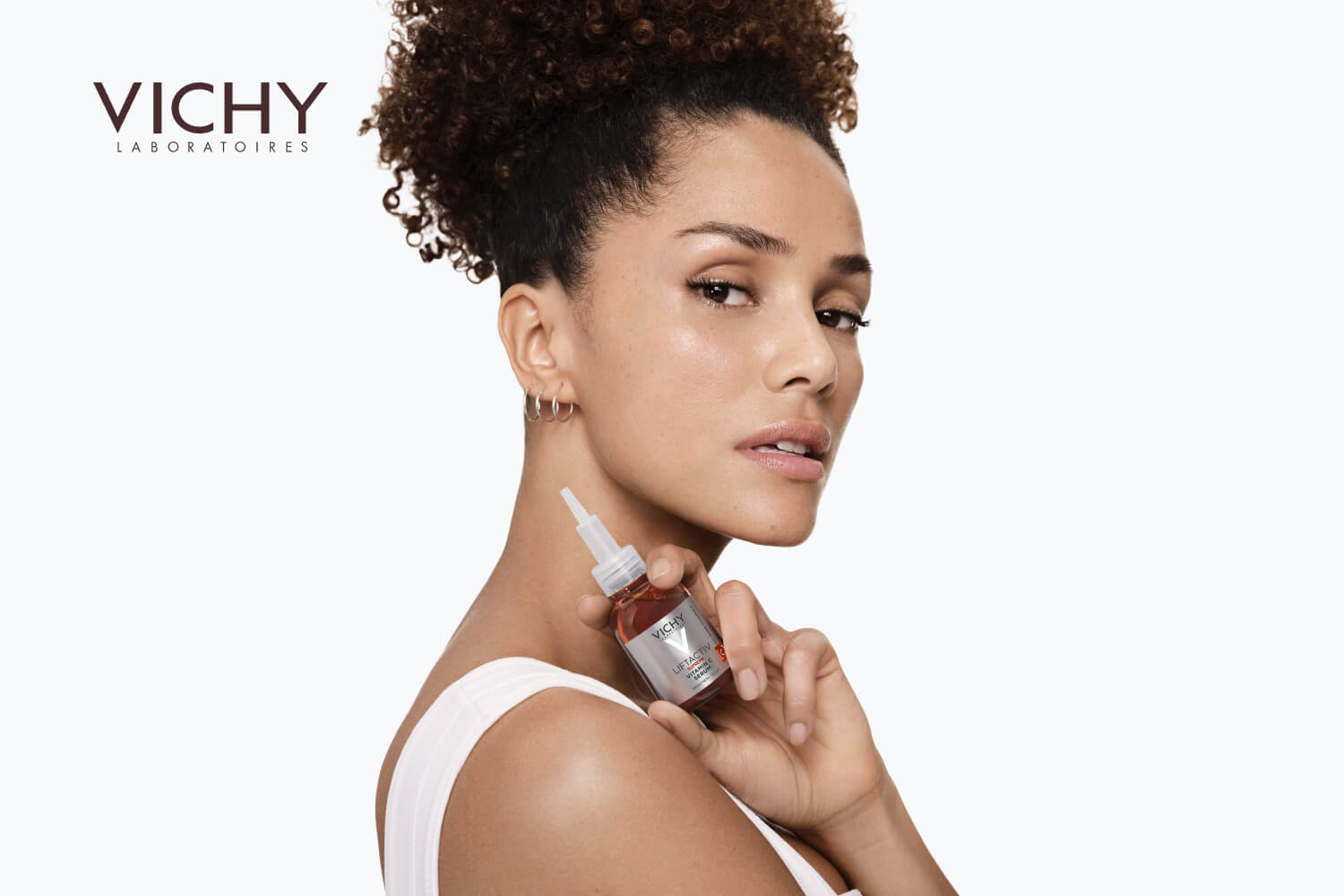 September is the rentrée month and, at Care to Beauty's store, it is also the month of VICHY: it is our Brand of the Month and all their amazing products are available at an attractive price with a discount of 25%.
The famous and well-known French cosmetics brand bases its products on the therapeutic properties of Thermal Water. Their products show excellent results, due to the ability to nurture even sensitive and demanding skin. This brand was founded by both Georges Guérin and Dr. Haller and presents cosmetics that meet the various skin needs. Today, this brand is one of the most important and noteworthy advanced cosmetic brands in the world.
Stepping in VICHY's territory
A brand like Vichy knows how important is to be close to consumers offering them more information about itself and their products.  Jorge Sucena, Vichy's Brand Business Leader in Portugal and Carina Carvalho, brand trainer, are used to answer all type of questions about the brand from customers, pharmacists, sellers, press, etc. and, this time, they answered ours 🙂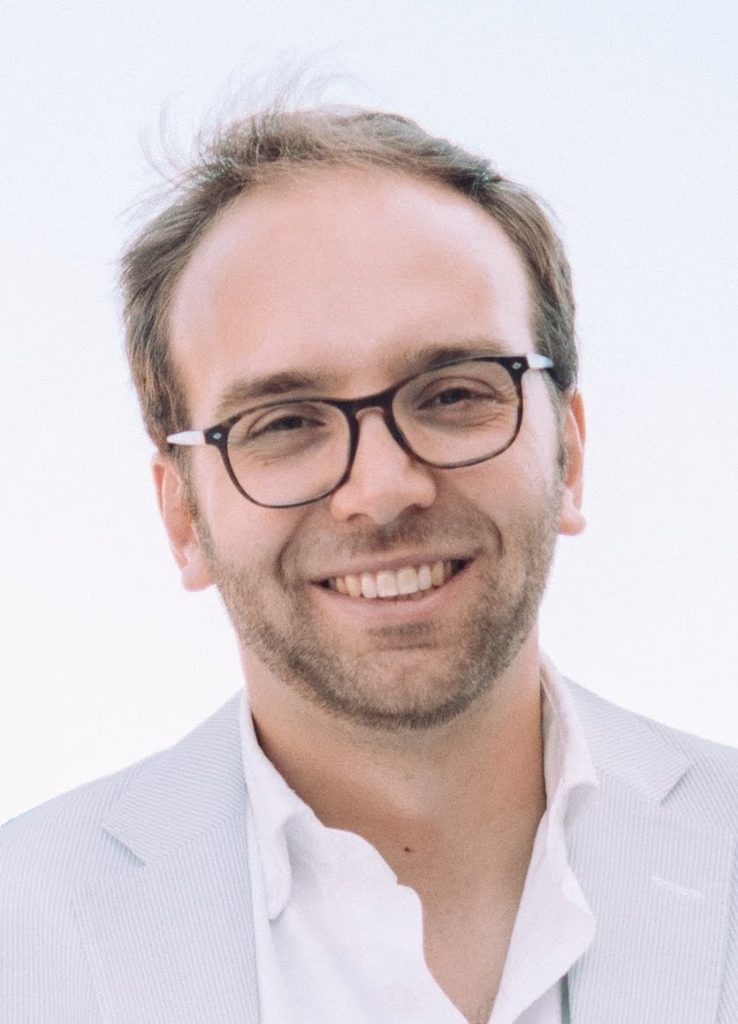 Let's find a little bit more about VICHY? Come with us…
We divide this interview into two parts. Jorge Sucena will start:
C2B – For those who do not know the brand, how would you describe it in a few words?
JS – Vichy is a brand that makes the skin stronger. It was born from a French doctor's passion for the skin and the ability to protect it that was found in Vichy's mineralizing thermal water and, almost 90 years later, is the No. 1 brand in Europe for anti-aging care. There is a mantra we use in our team that briefly describes our commitment: natural ingredients that work, results we can see, for women who care.
C2B – What can we find in VICHY's products we cannot find on the products of any other brand?
JS – At Vichy, we believe that excellence products are not the result of chance, they are choices. That's why at Vichy we make 7 choices to make women's choice as natural as possible – you can learn more about our commitment. Of these choices, there is one that is, by definition, impossible to find in other brands: we chose to formulate all our products with Vichy Mineralising Thermal Water. It is our main asset, an unique water in the world, which stands out for its mineral diversity – thanks to the millennial journey that makes 4,000 meters deep through the region of the French volcanoes of Auvergne, it is loaded with 15 different minerals in a concentration of 5.2g / l. It is this richness that makes it so powerful: 16 scientific studies have demonstrated its effectiveness in rebalancing, strengthening and regenerating the skin's barrier function. It is so special that even our own production system has adapted to it! All our products are manufactured in an industrial unit just 4km from the water springs, in order to have greater control over their purity and stability as we put it at the heart of all our formulas.
"…natural ingredients that work, results we can see, for women who care."
C2B – VICHY presents a wide catalog of products that meet the needs of all skin and hair types, male skin, sun protection, and makeup. Is it important for the brand to always have a solution to present whatever the challenge presented?
JS – Yes, for us it is very important. At Vichy, we are proud to be a brand for everyone: for all skin types, even the most sensitive, for all ages, for all specific needs, for all genders, and for all regions. We feel this is critical in order to be true to our founder's dream: to bring Vichy Mineralising Thermal Water to everyone so that everyone can benefit from its protective power against aggression. And we are delighted to see this effort recognized by people. In Portugal, for example, Vichy leads most of the dermo-cosmetic categories in which it operates (such as Face Care, Hair Care, Male Care, Deodorants and Makeup), which shows that we have been able to offer effective care for various types of needs.
C2B – We associate the brand with constant innovation and renewal. What do you consider to be the most innovative product VICHY launched lately?
JS – I would, perhaps, highlight the new Liftactiv Specialist Peptide-C face ampoules that are probably the future of anti-aging care because they allow us to preserve high concentrations of active ingredients while minimizing the use of preservatives, which translates into high efficacy formulas that are well tolerated by sensitive skin. With Liftactiv Specialist Peptide-C ampoules we exploited the full potential of this technological breakthrough with high concentrations of Bio-Peptides – a unique asset that we find already in Liftactiv Collagen Specialist, the major market launch in 2018, that quickly became nº1 cosmetic product in Anti-Aging in Portugal – and we associate it with 10% Pure Vitamin C, 0.2% natural Hyaluronic Acid and, of course, with our Vichy Mineralizing Water. It is an extraordinary product, with visible results in correcting all types of wrinkles and improving skin radiance. And we will make a great investment to make many women discover it and upgrade their care routine with it.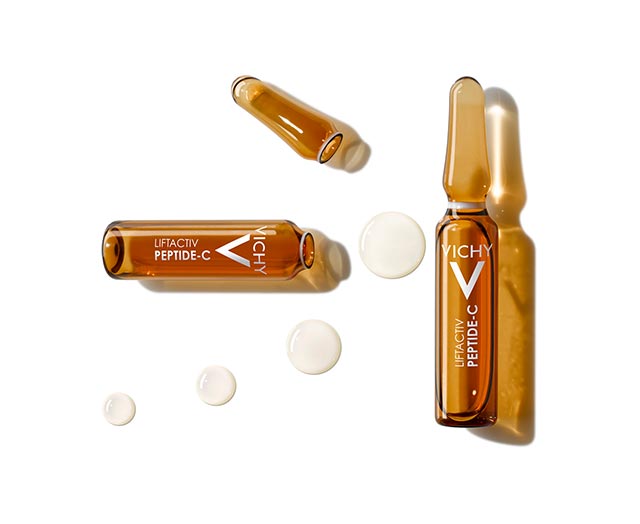 C2B – And in the near future, what big news can we expect from VICHY?
JS – There are two releases for the end of this year that make us very excited: first, the 'extreme make-over' that we are going to do in our Pureté Thermale face cleansing range, with the release of 3 new micellar waters – for sensitive skin, for oily skin and, the big breakthrough, a micellar milk for dry skin – and a cleansing foam (with a fantastic texture that made everyone here at the office become truly surrendered). Second, the new Neovadiol Rose Platinum Night, a complement that the thousands of Neovadiol Rose Platinum Day Cream fans deserved already. In addition to restoring skin's natural rosy tone and healthy appearance, it has a benefit that many women over the age of 60 yearned for: accelerating skin recovery on "pillow wrinkles".
C2B – We know this is a difficult challenge, but if you would have to choose only one VICHY  product as your favorite, which one would it be?
JS – Yes, you're right – it is very hard! It's almost like asking us which child we like the best! But having to choose, I would choose Minéral 89, because it's – if we want – "Vichy in a Bottle": all brand values are there. 89% of Vichy Mineralizing Water, a natural, harmless  and minimalist formula adapted to the most sensitive skin… this product has the ability to make skin stronger, being a shield against pollution and other aggression, and to be a product for everyone (it is probably the product that most men secretly steal from their women at home). It is truly an icon! It has become a cornerstone of the brand, it's the first step in any skincare routine we recommend to all fans of the brand and is a huge sales success – it is the nº1 pharmacy moisturizer in Portugal and Europe.
C2B – And which one you can not miss in your daily beauty routine?
JS – The "disadvantage" of working on a brand like Vichy is that I no longer have just one indispensable product, I have several – which sometimes makes airport security check a bit difficult! I would highlight 3 products: the new Dercos Stimulating Shampoo, from the Aminexil Men Protocols range, which makes my hair thicker, stronger and shinier… I love the texture and the fragrance; Vichy Homme Hydracool, an innovation of the beginning of the year that combines the ability of hydration with the cooling effect and anti-pollution action… I love to apply it in the morning; and the new Normaderm Phytosolution Cleansing Gel, that I use 2-3 times a week in the shower… helps me a lot to rebalance and reduce the comedones that my skin has the tendency to develop under my beard.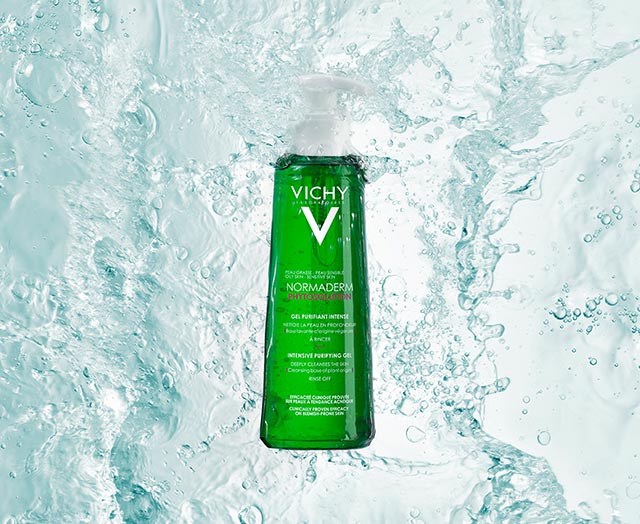 For the second part, Carina Carvalho took over the interview: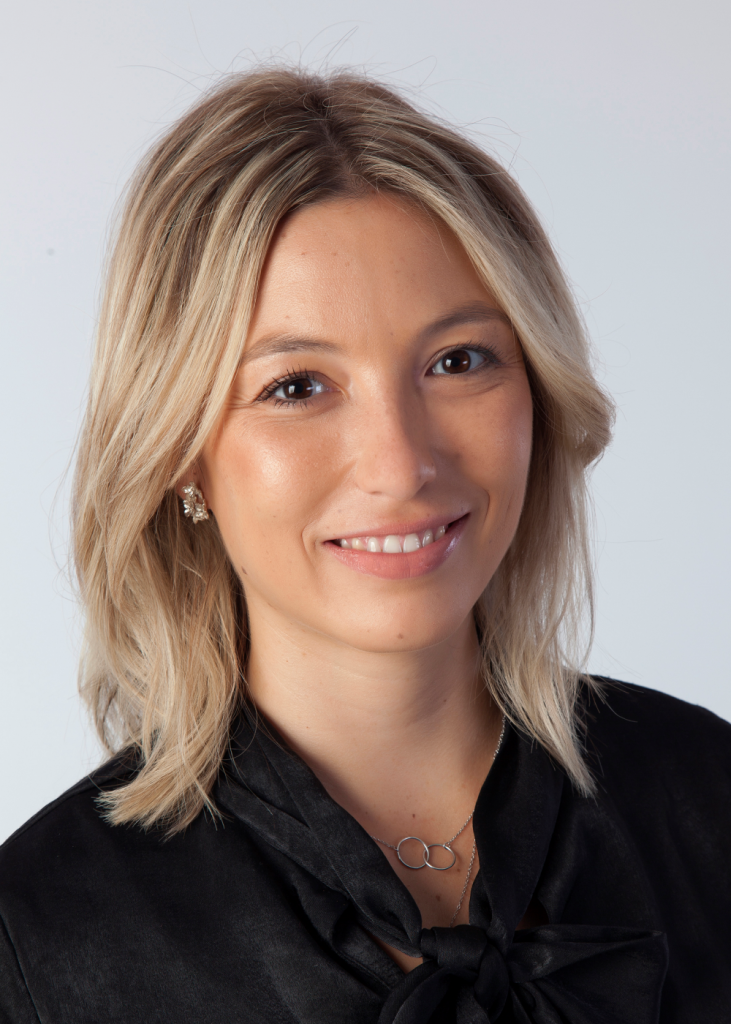 C2B – A brand as well-known around the world as Vichy can, at times, struggle with misconceptions about it, mistakes or prejudice… Does it happen often? How do you untangle these hanks?
CC – Vichy is a brand that has always been recognized by everyone for its ability to ensure the best user experience, the most sensory textures, the pleasant fragrances… due to these characteristics, related to the sensory effect of the application, the myth has been generated that it would not be good on sensitive skin, which is completely wrong. What we have been doing as a brand is to demonstrate and share with all professionals who recommend Vichy brand daily, and with consumers in general, the safety and tolerance of our formulas. At Vichy, we select dermatological ingredients and prioritize minimalist formulas. The secret of our success stems from the perfect balance between effectiveness, safety, and sensoriality. It is exactly this know-how that we communicate every day that enables us to be the most trusted brand and the first choice of consumers.
"…The secret of Vichy's success stems from the perfect balance between effectiveness, safety, and sensoriality."
C2B – As a brand trainer, what are the main difficulties you encounter in your training sessions? The vast catalog? The constant releases?
CC – Vichy assumes its leading role and this also means being the brand that constantly offers the market innovations that match the expectations of consumers. In the successive releases and new products, we introduce in the catalog, given that they are often innovative categories in dermo-cosmetics, the main challenge is to convey how all skincare is part of a set and should be used consecutively, to achieve visible results, quickly and effectively. Despite all the information available, and the fact that consumers are truly very receptive to use multiple products, it is still important to demystify that each product has its function and that a face care routine should at least consist of cleansing, a care that protects our skin from daily aggressions, serum, and cream fitting to the needs of our skin and, last but not least, sun protection.
C2B – Being at the service of sensitive skin is a major challenge. What can sensitive and reactive skin find in Vichy products that offer comfort and delicacy it so badly needs?
CC – In our products, we only use dermatological ingredients and test our formulas on all skin types, including sensitive skin. In this way, we guarantee efficiency and at the same time excellent tolerance. Vichy is a brand for everyone and this is evident in the numerous tests we do. In the case of reactive skin, and because it is a distinct stage of sensitive skin, it is a more serious situation with constant discomfort, we recommend that you seek advice from the dermatologist. Many situations of skin reactivity are associated with other skin habits or conditions, so it is important to seek expert advice for the correct diagnosis.
"…we only use dermatological ingredients and test our formulas on all skin types."
C2B – We know it's hard but if you could just pick one branded product as your favorite, which one would it be?
CC – It is a challenge to be able to choose only one because I identify with various products, but if I had to … would be the Minéral 89, no doubt!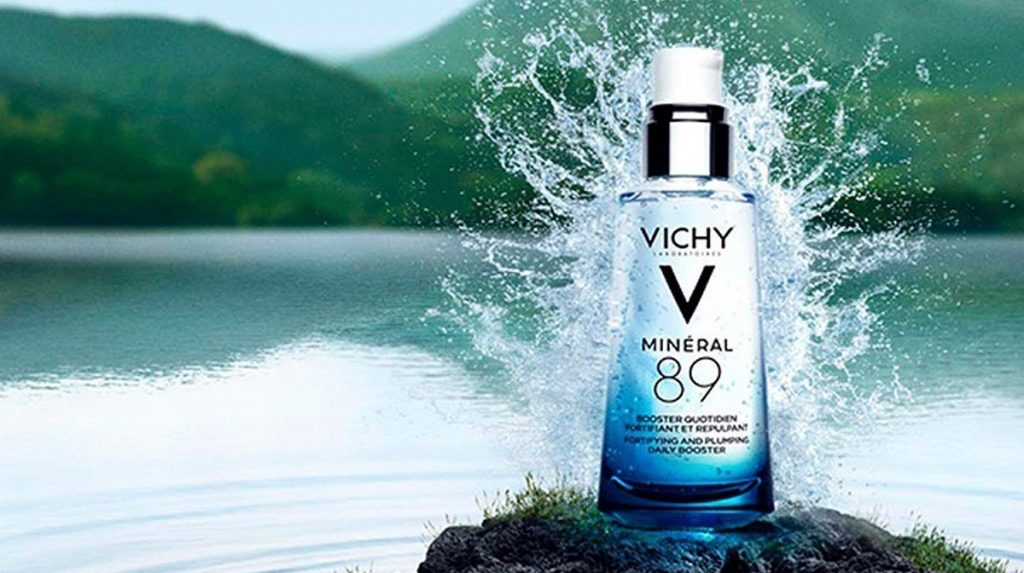 C2B – And which one you can not miss in your daily beauty routine?
CC – Closing my eyes and imagining all the daily care I use, I would, again, choose Minéral 89. The truth is that this product is a real life-saver, it fills most of my skin concerns. Protecting my skin from pollution, stress, perfect texture, even when combined with other care does not leave the skin greasy… anyway, there are so many benefits that make it my favorite and for most of the Portuguese customers.
VICHY and the pride of being a brand for everyone
And for everyone means for everyone: all skin types (even the most sensitive), for all ages, for all specific needs, for all genders, and for all regions – this expression truly summarizes Vichy's identity and essence. That and its main asset, at the heart of all formulations: Vichy Mineralising Thermal Water that has unique properties and it's impossible to find in any other brand.  It's the nº 1 brand in Europe for anti-aging care and its commitment can be briefly described like this: natural ingredients that work, results we can see, for women who care.
This interview was translated and edited for clarity.
---
This post is part of a series of interviews conducted by Care to Beauty in 2019. We spoke to representatives of some of our favorite brands in order to bring you a closer look at some of the world's most popular skincare products. The full series includes interviews with brand reps from Eucerin, Filorga, Heliocare, La Roche-Posay, Lierac, Phyto, Sesderma, and Vichy.