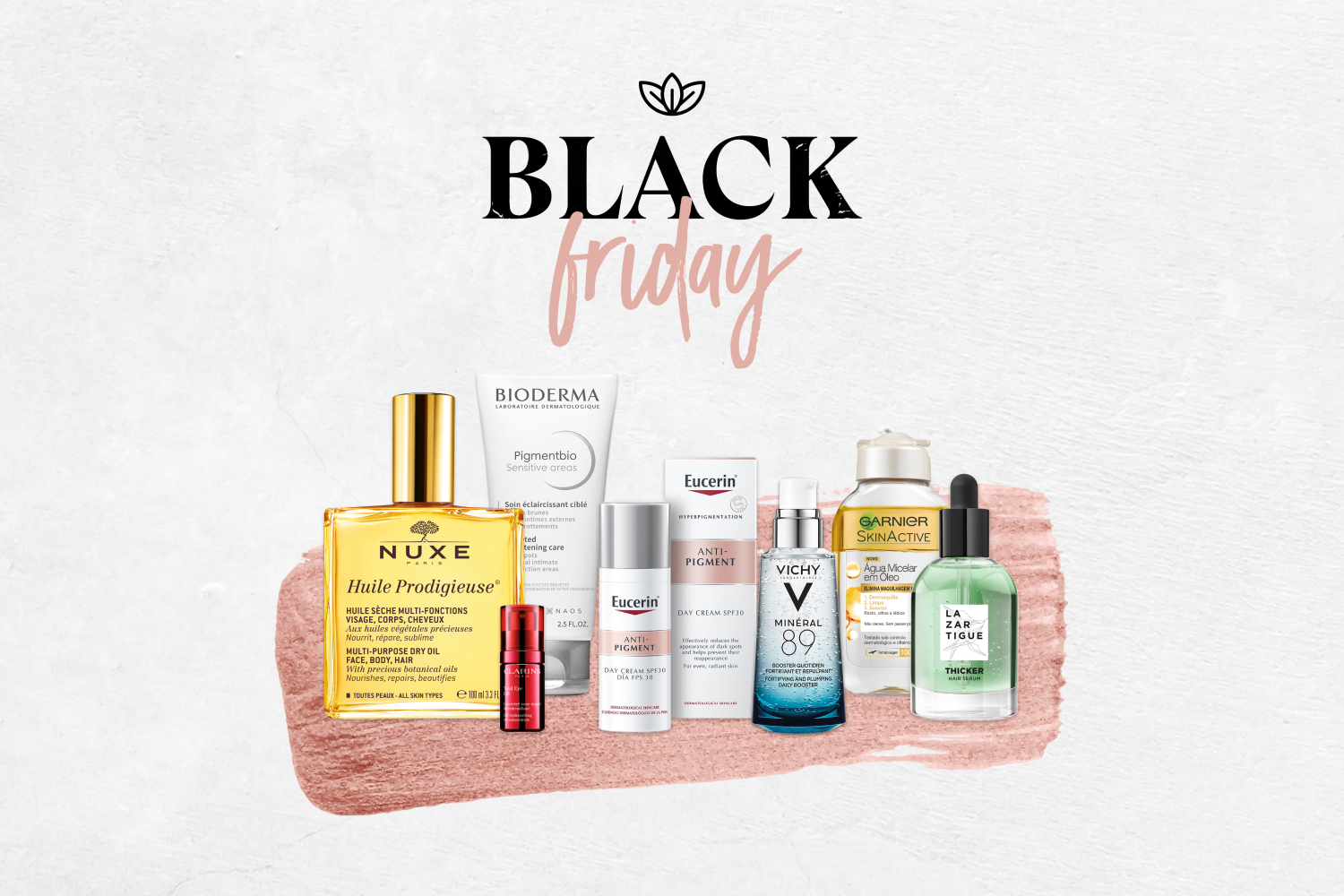 As promised, here they are: our Black Friday beauty deals for 2021! Here at Care to Beauty, we're celebrating Black Friday with some sales you truly can't miss: up to 60% off on our favorite beauty and skincare brands! If you haven't joined our community, now's the time to drop by the shop and enjoy our Black Friday beauty deals!
Are you ready? Then, without further ado, let's jump into the deals.
Our 15 best Black Friday Beauty Deals in 2021
You know how it goes: we recommend a best-selling product from a tried-and-tested brand, you get it at sale price and change up your skincare routine for the better. This year, we've selected 15 products worth looking into–but don't think this is all we're offering. Black Friday at Care to Beauty is a sitewide promotion, and there is much, much more to explore.
---
On this post:
---
La Roche-Posay Pure Vitamin C10 Serum
With 30% off on La Roche-Posay
Specially created to unveil the full radiance of sensitive skin, La Roche-Posay Pure Vitamin C10 Serum is a powerful antioxidant cocktail that features vitamin C, salicylic acid, and neurosensine.
This innovative product provides the skin with both renewing and anti-aging benefits, as it targets wrinkles and fine lines, dullness and lack of luminosity, and irregular skin texture. The light, serum-like texture is easily absorbed, creating a velvety finish that works perfectly as a make-up base. Try it for yourself, and give your complexion a powerful boost of luminosity!
---
Eucerin Anti-Pigment Dual Serum
With 20% off on Eucerin
If you're looking for a solution against dark spots, Eucerin Anti-Pigment Dual Serum may be an option worth looking into. It is a dual-action serum, formulated with Thiamidol, that reduces dark spots while preventing their re-appearance.
Thiamidol, a tyrosinase inhibitor, is a patented ingredient by Eucerin that acts at the root cause of hyperpigmentation by reducing melanin production. With this ingredient, the Eucerin Anti-Pigment Dual Serum is able to both reduce dark spots and prevent its re-appearance. This is particularly important for those who have a natural tendency to develop post-inflammatory hyperpigmentation.
---
Caudalie Thé des Vignes Nourishing Body Lotion
With up to 50% off on Caudalie
French brand Caudalie is known for its deeply luxurious skincare products; one of the more popular is Caudalie Thé des Vignes Nourishing Body Lotion, and for good reason!
This is a voluptuous body lotion that moisturizes the skin while enveloping it in a delicious, yet subtle scent. Enriched with nourishing grape seed oil and anti-oxidant grape polyphenols, this lightweight lotion melts into the skin to leave it soft, moisturized, and firmed as a result. The fragrance of white musk, neroli and ginger contributes to create a moment of ultimate pleasure. Have you tried it?
---
Vichy Minéral 89 Fortifying and Plumping Daily Booster
With 30% off on Vichy
Vichy has truly done it with Vichy Minéral 89, one of most iconic products from this already iconic French brand. Rich in hyaluronic acid and 89% Vichy Mineralizing Water, this daily booster is designed to hydrate, revitalize, and fortify your skin with just a sweep of your fingertips.
With a fresh gel texture, this product is perfect to deliver a daily boost of hydration to all skin types. After one month with this booster, 94% of users feel their skin is more luminous, 87% feel their skin looks healthier, and 83% feel their skin is fully hydrated.
---
Sesderma C-Vit Serum Liposomal
With 40% off on Sesderma
One of the star products from Sesderma, Sesderma C-Vit Serum Liposomal needs no introduction. (But we'll introduce it anyway!) With a lightweight formula that is chock full of vitamin C, this serum provides a dual anti-aging and anti-fatigue action. It helps reduce the appearance of wrinkles and dark spots, all the while protecting the skin from free radical damage.
With a feather-light texture that is suitable for all skin types, Sesderma C-Vit Serum Liposomal is the perfect product to introduce into your routine if you're looking to restore radiance to a dull, tired complexion.
---
Embryolisse Lait-Crème Concentré
With 25% off on Embryolisse
If you're going to shop Embryolisse this Black Friday, make sure to invest in the ultimate Embryolisse product. Embryolisse Lait-Crème Concentré has achieved cult status with its rich, creamy formula that provides 3-in-1 benefits as a primer, moisturizer, and makeup remover.
An icon of French pharmacy, this cream is made from ingredients of natural origin, which are rich in essential fatty acids and vitamins. If you're looking for the dermatologist and makeup artist-approved secret to soft, satin-smooth skin, start here!
---
CeraVe Hydrating Cleanser Normal to Dry Skin
With 30% off on CeraVe
CeraVe cleansers are always worth investing in, so why not take advantage of our CeraVe Black Friday deals?
One of the most popular CeraVe cleansers is the CeraVe Hydrating Cleanser: it is particularly suitable for normal to dry skin, but it can be beneficial to other skin types as well. With a gentle non-foaming texture, this product is able to gently rid the skin of all impurities. As a result, it leaves the skin feeling smooth and comfortable; all without disrupting the skin barrier, thanks to the presence of ceramides and hyaluronic acid!
---
Garnier Fructis Hair Food Banana Mask
With up to 55% off on Garnier Fructis
With a vegan formula that contains 98% ingredients of natural origin, the best-selling Garnier Fructis Hair Food Banana Mask provides dry hair with all the nutrition it needs to look its best. Banana extract, the key ingredient known for its delicious aroma, nourishes the hair in-depth, restoring its elasticity and strength for a soft result.
This mask can also be used as a detangling conditioner, or as a leave-in treatment. In short, you get three different uses in one product: hair mask, conditioner, and leave-in treatment.
---
Bioderma Sensibio Mild Cleansing Foaming Gel Sensitive Skin
With 30% off on Bioderma
Could the Bioderma Sensibio Mild Cleansing Foaming Gel be one of the most popular cleansing gels on the market today? We think so. It is suitable for the face and eyes, and it removes makeup and impurities without disrupting the skin.
This product can be used daily, as it has soothing properties and boosts the skin barrier while strengthening the skin to help it maintain its integrity. The skin feels fresh, hydrated, thoroughly cleansed and soothed. Our team members can attest to this, as they use it and love it!
---
Heliocare 360 Gel Oil-Free Dry Touch SPF50
With 30% off on Heliocare
Heliocare 360 Gel Oil-Free Dry Touch SPF50 offers very high sun protection in an oil-free formula with a "dry touch" gel texture. Non-comedogenic and quick to absorb, this sunscreen has a bit of a cult following among those with normal to oily skin types. It is also an easy choice for those living in hot, humid climates, due to its lightweight formula.
In addition to offering broad protection against UVB, UVA, infrared, and visible light, it also offers a mattifying and sebo-regulating action. No wonder this is one of Heliocare's most popular sunscreens!
---
L'Oréal Paris Men Expert Carbon Protect 48H Anti-Perspirant
With 60% off on L'Oréal Paris Men Expert
There's nothing quite like finding the right deodorant (or antiperspirant) for you, and this L'Oréal Paris Men Expert Carbon Protect 48H Anti-Perspirant is a great option for men who want quick, effective results.
Formulated with aluminum chlorohydrate and charcoal powder, this antiperspirant has powerful absorbing and antibacterial properties. It not only helps regulate perspiration but also helps prevent and neutralize body odors. With a long-lasting, icy fragrance, this product also provides a cooling effect, leaving the skin calm and comfortable for up to 48 hours.
---
Braun Silk-Expert Pro 5 IPL Hair Removal System Gold PL5014
With up to 20% off on Braun
This IPL (Intense Pulsed Light) device from Braun can help you achieve professional hair removal results from the comfort of your home. With exclusive SensoAdapt technology that continuously reads your skin tone, this device is able to adapt the intensity of the light according to your needs.
With 10 different intensity levels and multiple performing modes that easily adapt to your needs, the Braun Silk-Expert Pro 5 PL5014 produces up to 125 flashes per minute. The first results are visible in just 4 weeks, but make sure to follow all the proper instructions for the best possible experience!
---
Aussie SOS 3 Minute Miracle Deep Treatment
With up to 25% off on Aussie Hair
Struggling with dull, dry, and damaged hair? Aussie Hair has the answer, and it's called SOS 3 Minute Miracle Deep Treatment. Infused with the power of Australian superfruits like Manuka, wild peach, macadamia, and avocado, this deep treatment restores and revives your hair from root to tip.
Take 3 minutes to treat your locks to the ultimate nourishing experience, and make sure to enjoy the delightful scent too! If that still isn't enough, here's another reason to feel optimistic: these formulas are certified by PETA and packaged in recycled and recyclable plastic.
---
Oral-B iO™ Series 6 Ultimate Clean Electric Toothbrush Black
Wiyh up to 30% off on Oral-B
With a sleek professional exterior, the Oral-B iO™ Series 6 Ultimate Clean Electric Toothbrush provides a gentle yet effective micro-vibration that will revolutionize your dental hygiene. Due to its Smart Pressure Sensor, this sophisticated toothbrush guides you through a professional cleaning experience while shielding your gums and enamel. A.I. Recognition and a built-in 2-minute timer contribute to make your dental hygiene even more effective.
With 5 smart modes of personalized brushing, this toothbrush loosens more plaque than conventional options, effortlessly leading you to a brighter smile.
---
It'S Skin Power 10 Formula LI Effector Serum
With 30% off on It'S Skin (and more K-Beauty)
Infused with powerful licorice extract, the It'S Skin Power 10 Formula LI Effector Serum is a best-selling brightening serum that helps fade dark spots and hyperpigmentation. At the same time, it gently refines the skin texture. The final result is a more even complexion that looks and feels beautifully radiant.
Are you a fan of K-Beauty? Then don't hesitate to look through our full K-Beauty Black Friday sale: up to 30% off on a range of your favorite brands!
---
Now that you know all about our best Black Friday beauty deals, it's time to get shopping. Still don't know what to get? Then take a peek at our team's Black Friday wishlist, featugin all the products we're investing in this season. Enjoy the sale!